Gudi Padwa is the beginning of new year for the people of Maharastra, Andra Pradesh and parts of Karnataka. Gudi Padwa is considered one of the most auspicious day in the year when people start new investments. This festival is celebrated by distributing sweets and gifts among friends and families. In this occasion, GiftstoIndia24x7.com introduces an array of gift articles. Amongst all other gifts, delicious sweets to India and Puja items are the perfect gift items in this festival. Sweets and delicious food are the core essence of all Indian occasions and festivals. People prepare variety of mouth-watering sweets at home as well as buy from market to make the occasion more grand and memorable.
Kaju Gujia, Kesaria Peda, Haldiram Gulabjamun and many other sweets all of which you can avail here to make the occasion even more special. The sweets available here are made of good quality boondi, kaju, mewa etc that are presented in beautiful decorated trays. All these sweets available in the site are from renowned shops and confectioneries. In Puja gift items category, you will find variety of silver puja gifts such as incense stick stand, silver bell, Diya, Singhasan and many more. The designs of the silver items available here are elegant and ethnic. Thus you can send sweets and Puja items to your dear ones through GiftstoIndia24x7.com.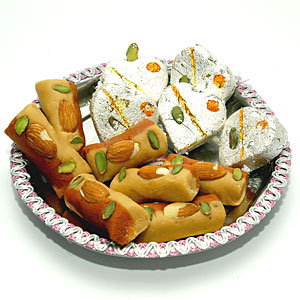 The CEO of the company Mr Amit Desai has opined in this regard, " Send exclusive gifts to your dear ones this Gudi Padwa through GiftstoIndia24x7.com and make the occasion more joyous and charming. We are here to deliver your precious emotions wrapped with the gifts".