Surprise your Teachers with Gifts from GiftstoIndia24x7.com
Gifts are a wonderful way to tell our loved ones how much they mean in our life. This is the reason why gifting is a very popular trend in every occasion and festival. Whatever the size or price tag, it will surely convey your feelings of love and adoration to the recipient. Furthermore, gifts are also a great way to convey our regard and gratitude to our teachers and mentors. Teachers' day is one day which is dedicated to teachers for their contribution towards society to make it a better place. This day varies from country to country. In India, it is celebrated on 5th September in the honour of the second President of India, academic philosopher, Dr. Sarvepalli Radhakrishnan. On this day, students shower their teachers with wonderful Teachers' Day gifts.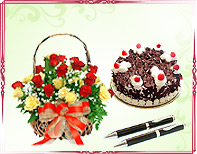 With the occasion of Teachers' Day just a few weeks away, GiftstoIndia24x7.com showcases a wide collection of gifts for teachers which you can send at a click of a button. It goes without saying that alongside our parents, teachers are also the ones to guide us towards the right path. Hence, convey your gratitude by sending gifts to India through this e-gifting site. The 'Teachers' Day gifts' section of this portal is filled with a splendid collection of gift items which your teacher or mentor will be thrilled to receive. Beautiful bouquet of flowers, delicious cakes and sweets, attractive showpieces and home decors, gift vouchers are some popular gifts which you can send him/her.

Whatever the occasion, flowers and cakes are by far the most popular gifts as these are appreciated by all. With this in mind, GiftstoIndia24x7.com displayes a beautiful collection of flowers of varied type such as roses, gerberas, lilies, orchids and so on. You can choose to send these as a bunch, bouquet, life size arrangement or in a vase. Along with these, a delicious cake will be an ideal choice. In current times, cakes are cut not only on birthdays but in any celebration. Furthermore, all the cakes in this site are delivered from top bakeries hence you can rest assured about its quality and taste. Hence, delight your dear Sir or Mam by sending cakes and flowers as Teachers' Day gifts to India.
If your mentor has a sweet tooth then give him/her a lovely surprise by sending mouth-watering sweets through this e-gifting site. In its sweets section, you will come across a variety of such delicacies such as motichoor ladoo, kaju suraj, kaju barfi, rasogolla, gulab jamun, kesaria peda, mewa rolls, etc. As all these sweets are from well known brands like Haldiram and K.C. Das, you need not worry about its taste and quality. Besides these, home decor items or showpieces will also make wonderful gifts on this special occasion. But before you choose any of these, do keep his/her preference in mind. If you are unaware of their choice, then send gift vouchers from the 'Gift vouchers' section. As with the help of these, your loved one can purchase any item as per his/her preference and within the worth of the voucher.

However, if you want to gift your teacher something on a personal level then you can browse through the 'Gifts for Mam' and 'Gifts for Sir' sections which are filled with suitable gifts. For your Mam, you can opt for an attractive jewellery, perfumes, apparels and so on while gift hampers, watches, men's accessories will be ideal gifts for your dear Sir. Thus, send gifts to India through this popular e-gifting site and express your gratitude to your teacher in the best way.