Send Gifts and Rakhi threads for Bhaiya Bhabhi this Rakhi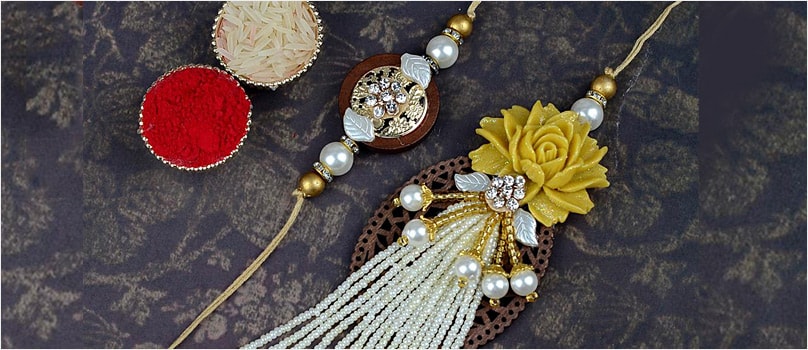 Rakhi celebrates the eternal bond of love between a brother and sister. Apart from tying Rakhi thread on brother's wrist, sister also tie Rakhi thread known as Lumba Rakhi on their sister-in-law's wrist. This custom was originally practiced in Rajasthan. Nowadays, this custom has become popular in other states of India. So, if you are missing your bhaiya bhabi you can surprise them by sending Rakhi to India along with gifts.
Since online shopping has become a common trend, you can send Rakhi to India to your bhaiya bhabi from online portals. Amongst various e-gifting stores, Giftstoindia24x7.com is popular one. This online store offers gifts solely for the festival of Rakhi. You can avail wide plethora of Rakhi gifts and Rakhi threads from this site. In the "Bhaiya Bhabi Rakhi" section, you will get different types of attractive Lumba as well as Rakhi threads. These Rakhis come in pairs. The Rakhis are artistically embellished with beads, silk threads, stones, glitters and so on. Some of the attractive Rakhi pairs which you can find here are Peacock Pair, Striking Golden Pair so on. Your Bhabi can wear this Rakhi as bracelets with traditional outfits as well.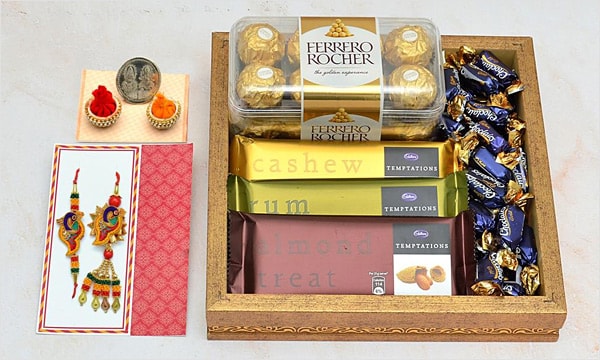 You can also opt for exclusive gift articles for your bhaiya bhabi. In the "Bhaiya Bhabi Hamper" section, you will get fascinating hampers. The hampers come with precious jewelleries, trendy outfits, personal care items, flowers, dry fruits, fashionable bags, etc. So, according to the couple's choice you send perfect hamper on Rakhri. Some of the most interesting hampers included in this section are Big Rakhi hamper, Premium Bhaiya Bhabhi hampers for Rakhi, Ever bright Hamper set and so on. These hampers come with exotic gift articles such as precious jewelleries made up of pearl or gold, traditional Rakhi thali, exotic perfumes from international brands and fashionable outfits.
You can also opt for enticing gift articles for your bhaiya bhabi and send Rakhi gifts to India on Rakhi. If you want to gift traditional items to your bhaiya bhabi on Rakhi then Rakhi thalis will be the perfect gift. Here, you will avail various types of Rakhi thalis. The traditional bhaiya bhabi thali comes with designed dabbis consisting of roli and chawal, an auspicious shagun nariyal and sacred Rakhi thread. Along with Rakhi thalis, you can send your bhaiya bhabi attractive dryfruit thalis, sweet thalis or chocolate thalis. These thalis includes assorted dryfruits, chocolates and sweets that your bhaiya bhabi will surely enjoy.
Gift hamper will also be a good choice to pot for when searching Rakhi gifts for your Bhaiya-bhabi. Flowers n Cakes is one among several hampers which will be a perfect gift that you can send to your bhaiya bhabi. Flowers and Cakes are available in large variety. The hampers include mouth-watering cakes of different flavors such as black forest, chocolate, strawberry etc. Along with the cakes, lovely fresh flowers such as Carnations, Roses, Lilies etc are also included. The palatable taste of the cakes and enchanting beauty of the flowers will definitely delight the couple.You can also send Rakhi greeting card to your bahiya bhabi on Rakhi. If you don't know how to make Rakhi greeting card then here are some tips. For Rakhi greeting card, use chart paper, images, glitters and beads. So, before you send gifts to your loved ones. So, add joy and pleasure to the festival by sending gifts to India.