Vouchers is an Exciting Way to Send Gifts from Australia
Gift is something that will surely and undoubtedly make a person jump out of joy. A lot of planning is required before deciding a particular present that will certainly make the receiver happy. Choosing the most appropriate gift for your near and dear ones is not always an easy thing to do. This is because, every time it is not possible to know exactly what gift one would prefer to have. In such a scenario, the perfect way to resolve this dilemma is by giving gift vouchers. For example, if you are staying in Australia, you would definitely want to send online gifts to India from Australia. A reliable option will be to send gift vouchers to your parents, relatives, friends and spouse back in India.



Sending gift vouchers is a smart way to give the best present to your loved ones without having to deal with the anxiety of the receiver's preference, criticism or negative reaction. Now, let us see exactly what kind of vouchers can be sent to your loved ones.
Apparel Gift Vouchers
Gifting apparels in the form of gift vouchers is an excellent option. The person who will receive the apparel gift voucher, will have the flexibility to choose the size of his apparel, color and other things as per his or her taste. GiftstoIndia24x7.com offers a large number of apparel gift vouchers from leading brands like Gini Jony, Pantaloons, Shoppers Stop, Westside, Guess and many more. No doubt your near and dear ones will be super elated to have a new set of clothing line during wedding ceremonies and other family get-togethers.
Jewellery Vouchers
Gifting jewellery is a safe bet when it comes to selecting gifts for women. However, you may not always know what kind of jewellery a woman exactly wants. To avoid unwanted situations, opting for a jewellery gift voucher will be a safe option. You can vouch to make her happy. Be it your mother or aunt, wife or girlfriend, sister or sister-in-law - everyone will love you more with amazing jewellery gift vouchers from Tanishq or Joyalukkas. Jewellery gift vouchers are the best option when it comes to sending anniversary gifts to India.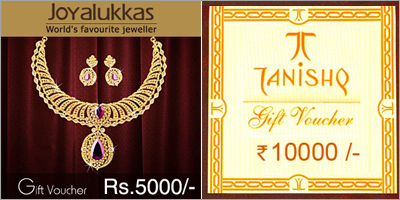 Electronics Gift Vouchers
Gifting electronics gift vouchers is a safe bet, especially if you are planning to give a gift to teenagers or college-goers. They swear by electronic gadgets like smartphones, iphones, ipads and laptops. In this situation, gift vouchers from Chroma or Reliance digital gift vouchers can be easily considered as safe gifting option. Even the adults can utilise the opportunity to redeem the vouchers and buy TV, washing machine, refrigerator or microwave as per their choice.


Home Décor Vouchers
Gifting home decor vouchers will be the best gift for both newly married couples as well as for those celebrating their wedding anniversaries. Send home décor gift vouchers to the couple to add a refreshing touch to their new home. With these gift vouchers, they can buy curtains, bed covers, show pieces and much more according to their needs.


Accessories Gift Vouchers
No look or get up can be complete without matching accessories. The word "accessories" comes to mind whenever we talk about apparels. Gifting accessories can never be out of fashion because these can be worn with or without any occassion. There are plenty of gift vouchers available online from brands like Aldo and TITAN EYE. With a few strokes of the key, these vouchers will be instantly delivered as anniversary gifts to India to your loved ones. When it comes to accessories, you can also think about sending watches gift vouchers from reputed brands like Citizen and TITAN. Your loved ones will send you their warmest regards and heartfelt love while choosing their favorite bags, shoes, watches or spectacles, complementing their personal style.



Book, CD, DVD Gift Vouchers
Lastly, you can consider giving book gift vouchers to your loved ones. As the proverb goes, "Books are a man's best friend", there can be no other substitute for a friend better than a book. Book lovers will be simply overwhelmed to get these book gift vouchers. They will enjoy the freedom to pick those books that have remained in their "to-be-bought" list for days. You can also consider giving CD or DVD gift vouchers. If you want to make your loved ones feel special in a unique way, you can send online gifts to India by personalizing them and bring a wide smile on the face of your loved ones. For sending appropriate gift vouchers, all you need to do is, browse through the various voucher sections and use filter price option to narrow down your search. That's it and you are all set to send gifts to India.
GiftstoIndia24x7.com provides a plethora of options when it comes to sending online gifts to India from Australia or USA. So, go ahead and spread love to your dear ones by sending them gifts and gift vouchers. After all, every gift from you is a wish for your loved one's happiness. Never miss on the opportunity when you have the fabulous facility to send online gifts to India with the help of gift vouchers. With gift vouchers, give your loved ones the liberty to choose according to their personal tastes.