Send Religious Gifts on Diwali
Diwali, also known as the 'Festival of Lights', is one of the most popular festivals celebrated by Indians all over the world. People mark this celebration by lightening up their homes with earthen diyas and decorating with marigold flowers and colorful rangolis. There are numerous legends surrounding this festivity, the most well known being the one associated with Lord Rama. It is believed that on this day Lord Rama along with his wife Sita and brother Laxman returned to Ayodhya after 14 years of exile. Since it was a new moon night, people welcomed their King back home by lightening the entire kingdom with earthen diyas which is followed till date.
Like any other festivals, exchanging gifts is also an important tradition followed on Diwali. This is where GiftstoIndia24x7.com plays an integral role. Since over a decade, this e-gifting site has assisted numerous individuals to keep in touch with their family and loved ones even if they are miles away. Moreover, this is an ideal portal for those who cannot be with their loved ones on this festival and want to send gifts to India to make their presence felt. In the 'Diwali Gifts' section of this site, you will across a wide collection of gifts which you can send to your dear ones. Beautifully decorated earthen diyas, rangolis, attractive home decors, delicious sweets, crunchy dry fruits are some items you can send as gifts to India on this festive season.

But, all in all, Diwali is foremost a religious festival. Celebrated for a span of five days, it begins with Dhanteras where Laxmi, the Goddess of Wealth, is worshipped and ends with Bhai Dooj which celebrates the special relation between brothers and sisters. Hence, if you want to gift your loved ones something auspicious in Diwali then also this portal showcases a wide selection of such gifts. On Diwali, Lord Ganesha and Goddess Laxmi are worshipped, hence, you can send your loved ones holy idols made of ceramics, polyresin, terracotta that are displayed in the 'Holy Idols' section. Alongside these, you can also gift your loved ones Lord Ganesha and Goddess Laxmi idols by selecting from the 'Ganesha Collection' section.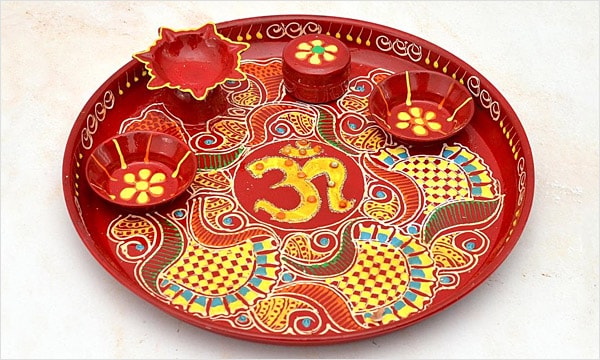 For those who want to gift their loved ones some precious religious gifts then they can check out the 'Diwali Silver Gifts'. Here, you will find a splendid range of items such as Puja accessories, shagun coins, thalis and idols all made of genuine silver. As all these are essential items while performing a Puja, it will surely be appreciated. Moreover, these silver items will be treasured by your dear ones for many years to come. Besides these, sending Puja thalis will be also be a wonderful gift idea as almost all come coupled with idols of Lord Ganesha and Goddess Laxmi, kalash, shagun naryal and silver or earthen diyas. Moreover, the thalis are decorated in bright and colorful decorations which gives it a festive look. You can also send them devotional Cds and DVDs or Spiritual hamper as Diwali gifts as well through this site.

Along with these religious gifts, a packet of delicious sweets or a dry fruits hamper will give your gifts a complete look. Since now you know when is Diwali this year, choose from the wide array of gifts showcased in this site and send it to your dear ones. Your gifts will add more joy to their celebration.