Rakhi - Thread of Love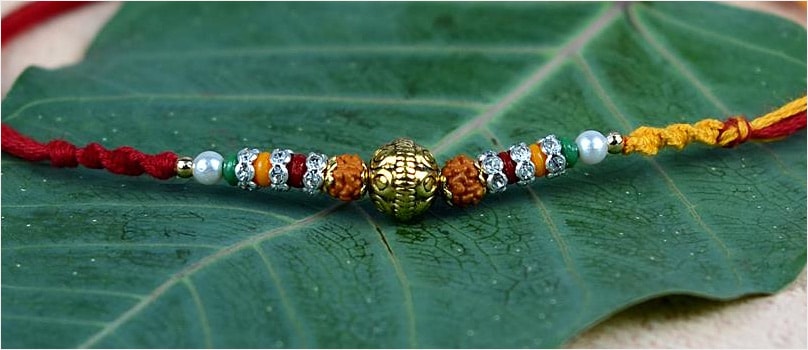 Rakhi is one of the most awaited Indian occasions, celebrated with all joy and vivacity. Rakhi stands to cherish the beautiful bonding of brothers and sisters. The festival is being celebrated with pomp and grandeur from ancient times. On this day, sisters tie the sacred thread of protection, Rakhi, on the wrist of their brothers and pray for their well-being. Brothers, in turn, give them enticing gifts and promise to care life long. This custom has been there since time immemorial. The affectionate festivity of Raksha Bandhan becomes a token of blessings, wishes, enthusiasm & love. Rakhi is celebrated on the full moon day of the month of Shraavan (as per Hindu calendar). Rakhi is a traditional Indian festival celebrating the bond of love between brother and sister. Every part of India celebrates Rakhi. Although the rituals vary in different states, the essence ofthe festival is same everywhere.
There are many references to the significance of the Rakhi festival in history of ancient India and Hindu mythology.The origin of this festival is usually traced back to the historical incidents of Indra's fight with Vritra-Indra that resulted in Indra's loss. Then, his wife had tied a thread around his wrist and empowered it with divine powers to make sure Indra emerged victorious in the duel that followed. Another incident is the one from the epic Mahabharat that concerns Krishna and Draupadi, the wife of the Pandavas. She had torn a strip of silk off her sari and tied it around Krishna's index finger to stop the flow of blood. Krishna was so touched by her action that He found himself bound to her by love. He promised to repay the debt and then spent the next 25 years doing just that. Draupadi in spite of being married to 5 great warriors and being a daughter of a powerful monarch trusted and depended wholly on Krishna. According to another legend, Raksha Bandhan was a ritual followed by Lord Yama (the Lord of Death) and his sister Yamuna. Yamuna tied rakhi to Yama and bestowed immortality. Yama was so moved by the serenity of the occasion that he declared that whoever gets a rakhi tied from his sister and promised her protection will become immortal. The above mention myths all attest the fact that Rakhi is the sacred thread that speak for selfless love, care and affection.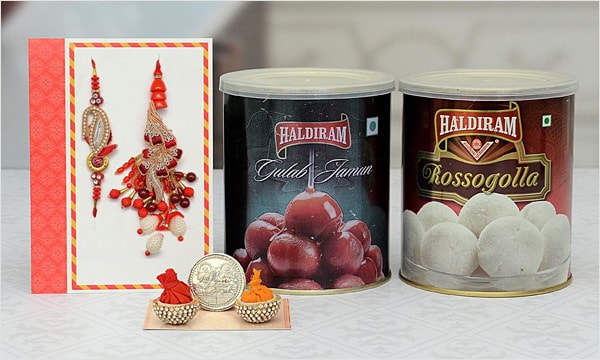 With the epoch-making advancements in the field of computer and internet, gifting has gone online. No need to wander around the shops within the thick crowd, nor any tension of getting proper value of the money, online shopping makes the ordeal easier and simple. The trend of online gifting has become most popular now-a-days. In this genre many portals are facilitating e-gifting. GiftstoIndia24x7.com is the pioneer amongst all e-gifting portals. Through our proficient delivery service and prompt delivery, we have pleased around 100,000 satisfied customers and has made 150,000 successful deliveries till date. You are sure to find an apt gift herein.
Now, as you know when is Rakhi, you may also be keen to send some gifts online. On the occasion of Rakhi, this e-gifting site showcases a plethora of gifting items. Varying kinds of Rakhis also adorn its store. Send online Rakhi to India and make the occasion even more special. There are Zardosi rakhis, Pearl Rakhis, Lumba Rakhis for Bhabhi and more. The charming collection of Designer Rakhis to Kids Rakhis and precious Diamond and Gold Rakhi are also available. Take your time to browse through the website of GiftstoIndia24x7.com and make your choice. This Rakhi, be sure to carve the happy smile on your brother's face and elate him to the best.
A wide variety of Rakhi Gifts are also available herein. From Rakhi hampers to Rakhi Vouchers, Rakhi Sweets Thali to Spiritual Gifts, the enthralling collection is sure to leave you spoiled for choices. If you wish to send Rakhi to USA and surprise your brother who is settled there, then we are at your service. Send Rakhi to USA through us sans hassles and hazards. Your Rakhi to USA along with some Rakhi Gifts will be delivered right on the time of the festivity. Send Rakhi to USA through us and enfold your wishes of the day.
The festival of Rakhi has emerged to gain a broader significance worldwide as it spreads harmony and bring together the family members under one roof. It is a sacred thread of love that manifests the countless blessings a sister showers selflessly on her brother. Rakhi to India is an occasion that commemorates the sacred bond between the brothers and sisters.