Gift Vouchers And Gift Hampers As Gifts On Rakhi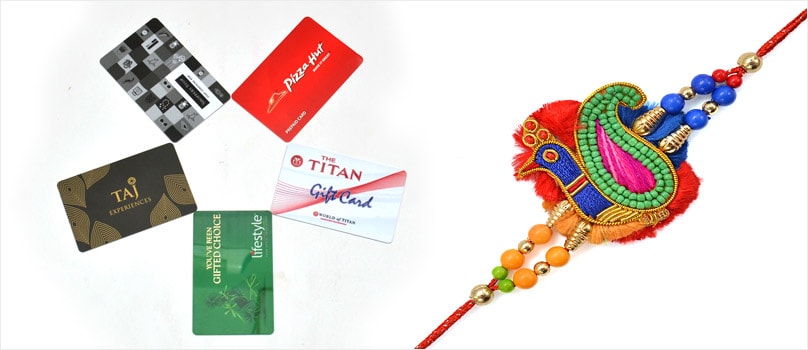 There can hardly be a better gift than gift hampers and gift vouchers. While the former comes with more than one kind of gift, the latter lets the recipient buy things of his choice from a particular brand. With Rakhi just a few months away, you can send gift vouchers and gift hampers to your sibling with the help of online gift portals. And when you are talking about online rakhi gifts store, the first website that comes to mind is Giftstoindia24x7.com.
Our website is entirely dedicated to the lively festival of Rakhi. In our website, you will get both wide varieties of rakhis and amazing rakhi gifts. This website is in fact the best choice for the NRIs living in various parts of the world. If you are one of them then you can send rakhi to India along with rakhi gifts to your brother through our renowned website. Whether you are looking to send gift hampers and gift vouchers or any other gift item for the festival of Rakhi, your safest choice is our website.
The entire website is categorised into rakhi, rakhi ritual items and variety of rakhi gifts. You will find different categories assigned for both gift vouchers and gift hampers. Gifts hampers can be dubbed as the best rakhi gifts to India. The category of Gift Hampers is queued up with Chocolate Hamper, Dry Fruits Hamper, Fruits Hamper, Exclusive Hamper, Sweets Hamper and Flower Combo. Exclusive Hamper is one of the most preferred hamper categories which has diversified gifts ranging from perfumes to apparels, watches, jewellery, cakes, soft toys, chocolates and many more.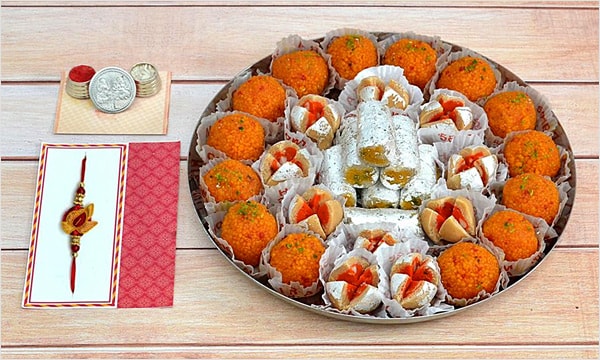 Flower Combo is an interesting hamper category where the hampers mainly come with combination of chocolates, flowers, cakes and soft toys. Other than these, there is a special section named 'Rakhi Hamper' which is filled with exciting hampers like Bhaiya Bhabhi Hamper, Hampers for Brother and Hampers for Sister. If you are looking to send gifts both to your brother and sister-in-law on Rakhri, then send them hampers from Bhaiya-Bhabhi Hamper section.
When you are sending rakhi to India to your brother, make sure you team up gift hampers from our website. There is a separate category with the name 'Mens Gift Hamper' which is stocked with magnificent rakhi gifts. Our assortment of gifts in the hampers for brother include dry fruits, watches, gift vouchers, shirts, personal grooming kit, belts and more.
We are proud to offer gift vouchers as rakhi gifts to our customers. The gift vouchers offered by our website comes from numerous leading brands like Baskin Robbins, Adidas, Reebok, Pantaloons, Domino's Pizza, Shoppers Stop, Titan, Pizza Hut and many more. If you are thinking of sending gift vouchers to your sister on Rakhi, you must browse through the category 'Gift Vouchers for Sister on Rakhi'. The category makes a grand display of gift vouchers offered by Gilli, Taj, SIA, Cafe Coffee Day, Big Bazar and more. If you want your sister to dine in style and elegance, then the dinner voucher of Taj will probably be the best choice. You can also send gift vouchers of GiIli and SIA which will give your sister the chance to shop jewellery of her preference.
Along with sending gift vouchers and gift hampers to your sibling, you can send something special as greeting card. If you know how to make a rakhi greeting card, then make one, otherwise, you can go for the greeting cards offered by our website. If you want a celebration of Rakhi in the most special way, then you can count on Giftstoindia24x7.com.