Popular Gift Ideas for Bihu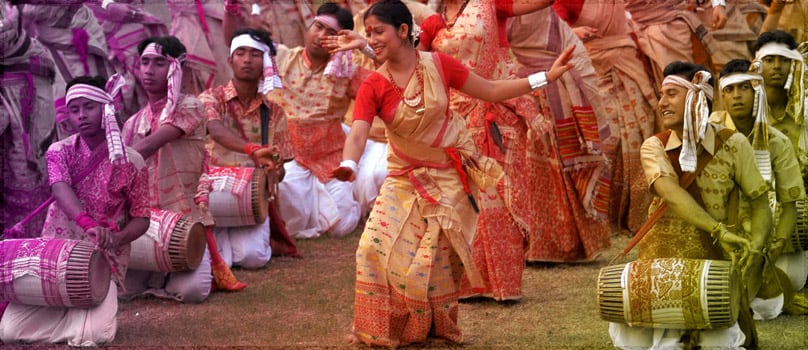 Image Credit : whatsuplife
Bihu is the traditional festival of the state of Assam and is celebrated thrice in a year. It is celebrated on different occasions and by different festivities and rituals. The most famous and popular Bihu is the Rongali Bihu, which is celebrated mid April. This Bihu marks the beginning of the Assamese New Year. It is also celebrated in Bengal, Manipur, Nepal, Orissa, Punjab, Kerala, Tamil Nadu etc. with different names. Rongali Bihu is a time for happiness and merriment. It is a time to send gifts to your loved ones in India and make them feel special. Let us discuss about some Bihu gift ideas, to send on this Bihu.
Chocolates are best gifts to give anyone of any age and at any occasion. This is one gift which never fails to please. These can also be sent as great kids gifts to India. The Chocolate Indulgence Hamper is a delectable chocolate hamper comprising of delicate handmade chocolates, different varieties of Cadbury's chocolates and choclairs. Gifts this and other chocolate varieties from this reliable online shopping portal.
Gift hampers are one of a kind gifts as these help you send an assortment of many gifts clubbed together. Flower delivery to India has been made easier through this reputed gifting website with the option of delivering fresh flowers on your chosen day. You can send them as hampers as well. The Hamper of Mouth Watering Delicacies is the perfect Bihu Gift. It contains Pietro coricelli olive pomace oil, fox blackcurrant, stute diabetic strawberry jam, davidoff rich aroma, strawberry drops filled, sugar free choc chip cookies in a rectangle handle cane basket.
Sweets are traditional gifts and are considered auspicious for any Indian occasion. Gift your dear ones sweets and nuts on this Bihu to delight them. Delicious Sweets and Dryfruits Tray is sumptuous tray containing delicious Mango barfi, kesar pista barfi, kaju basket, kaju gujia, kaju and raisin segregated into six pockets with velvet interiors in a golden tray.
You can send these as well as choose from a wide variety of gifts available on this trustworthy online gifting portal. Also you can send mother's day gifts to India to make her day special.