Ways to make Bhai Dooj celebration Grand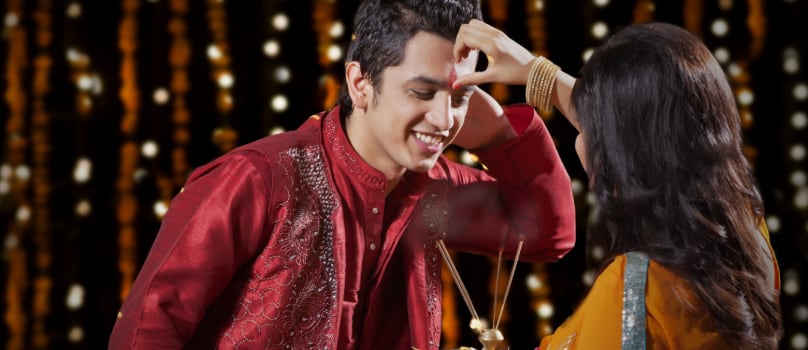 The festival of Bhai Dooj comes only once a year and thus it is very important to make this celebration worth remembering. This occasion takes place on the dwitiya of the shukla paksha in the Hindu lunisolar month of Kartik. The Bhai Dooj celebration is a very auspicious one that is observed mainly by the sister putting a tika on the brother's forehead. Gifts giving is a very important aspect of this festival that makes this awesome festival a grand one. Staying away from your siblings can be tough but these fantastic Bhai Dooj gifts to India can surely make them feel cherished. A variety of such gifting options are available on this reliable online gift store to be sent to India.
Dry Fruits
These tasty and healthy treats are loved by most people and hence they can make a good gift for your sibling. This online gifting portal has a large number of exquisite dry fruits that can be found in hampers as well. The Chocolate & Dry Fruit Bhai Dooj Thali comes in an ornately carved pink box with delectable raisins and other gifts.
Silver Gifts
Silver is believed to be very auspicious and therefore it is considered to be the perfect gift idea for this occasion. Different types of utensils and other puja items made out of silver have been showcased on this gifting site. The Classic Puja Diya from Jpearls has several beautiful carvings on its base and it can be used during any festive occasion.
Chocolates
These sweet delights are enjoyed by everyone because of their delectable taste and smooth texture. You can get a variety of branded and handmade chocolates here that have been made into hampers. The Square Thali of Chocolate is made up of a wooden thali filled with different types of branded chocolates.
A hamper of lovely gifts will be loved by your siblings and hence you can easily send such exciting gifts for them. The hampers on this online gift store have been subdivided into four different sections based on the items they hold. There are chocolate hampers, dry fruit hampers, sweet hampers as well as hampers for brother.
It is customary to give a platter of sweets to the brother during this festival and as such sweets form an important part. Many varieties of delectable sweets are present on this online gifting portal that your brother will truly cherish. The Sweets Thali is in a designer thali having three types of mawa and kaju sweets.
The rituals of the Bhai Dooj puja are performed using a puja thali and thus a puja thali can be a good gift for your sister. This gifting site holds a number of such thalis along with various other puja accessories that can be used as well. The Pure Silver Thali is from Sri Jagdamba Pearls and it consists of a round thali, two dabbis and a spoon made out of silver.
Enjoy this coming Bhai Dooj to the fullest extent by sending sending these and other gifts to your siblings. You can send gift to India through us in a very easy process and your gift will surely reach in time. There are also various other kinds of gifts here for many events and occasions like Durga Puja.