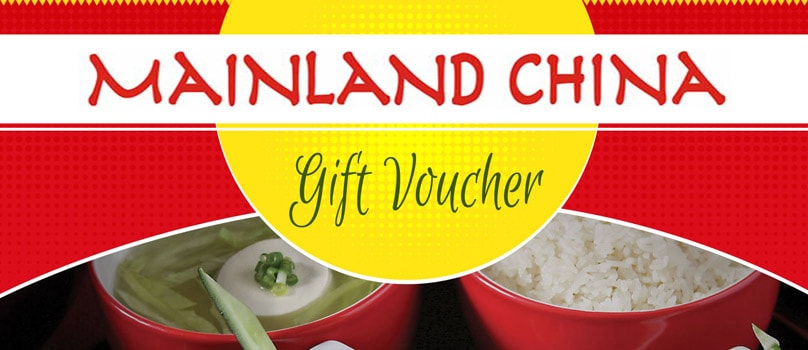 To send gift cards to India from USA is one the most sensible ideas. Specially when you are in doubt about what to gift your dear one, gift vouchers can save you from such a situation. They can shop to their heart's content with these Gift Vouchers and buy whatever they like or require for their home making. So Gift Vouchers are quite popular as gifts.

At GiftstoIndia24x7.com you will get to see lot of section of gifts, categorised according to occasion, relation, gifts for him, gifts for her etc. Similarly, it also showcases a section of Gift Vouchers where you will find vouchers from best brands. There are vouchers with which you can shop garments, crockeries, electronics, watches and lots more to add on. The site brings to you branded vouchers from houses like Big Bazaar, Pantaloons, Cafe Coffee Day, Tanishq etc of various price ranges. But the site has recently launched Dining Gift Vouchers worth Rs 500 from the best chinese eatery "Mainland China".

Mainland China is an authentic Chinese restaurant which has a chain of outlets spread all over India. India is no stranger to Chinese cuisine, almost every lane has a Chinese food stall cropped up. But to taste real Chinese, Mainland China is the last destination. It has earned fame over the years for it world class Chinese recipes. The first Mainland China outlet was opened in Mumbai in the year 1995 with a view to explore the best cuisines from major provinces of China. Within a short span of time people realised the difference between Indianised Chinese and real Chinese. Gradually with popularity Mainland China started to spread in cities of Bangalore, Hyderabad, Kolkata, Pune, Chennai, Delhi and many more. Now its time to give your dear ones an opportunity to satisfy their taste buds by treating them in Mainland China. The Gift Voucher of Mainland China will help them in doing so.
Mr. Amit Desai, CEO of the company has said, "Let your dear ones taste real Chinese by gifting them a Mainland China Gift Voucher."