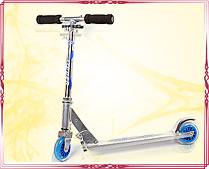 The online gifting company GiftstoIndia24x7.com has recently introduced a plethora of gift items for kids. The newest collection of gifts include the Kids' Scooty. GiftstoIndia24x7.com is into the business of online gifting since 1999 and with passing time, has proved to be the ultimate destination of online gifting for the global Indians. GiftstoIndia24x7.com enables the NRIs to send online gifts to India on any occasion. The portal showcases various gift articles that are arranged under different categories and segregated as per the occasion, festivals or relation-wise. GiftstoIndia24x7.com boasts 7000 beautiful gift items that are available in market-friendly price range.
Kid's scooty is the recent addition to its gifts for Kids category. The classic wheeler, the Kids' Scooty is an ideal combination of fun and style. This could become an ideal gift for the little ones to match any occasion of fun and celebration. May it be as a gift on birthday or to encourage the champion's remarkable achievement, this kids scooty will be a nice gifting idea that would fascinate him to the best.
The CEO of the company Mr. Amit Desai opined in this regard, Gifts are the best way to say you care. Express your love for the little ones by sending some gifts for them. The newly introduced kid's scooty will be an exclusive gift item which you can send to surprise the little one in India.
Since 1999, GiftstoIndia24x7.com has been serving the global NRIs by providing them a secured platform to send gifts to India online. With its proficient delivery service and excellent 24 x 7 customer support, this site has become one of the premium online shop for them.