Send Men's Jewellery and apparels to your brother this Rakhi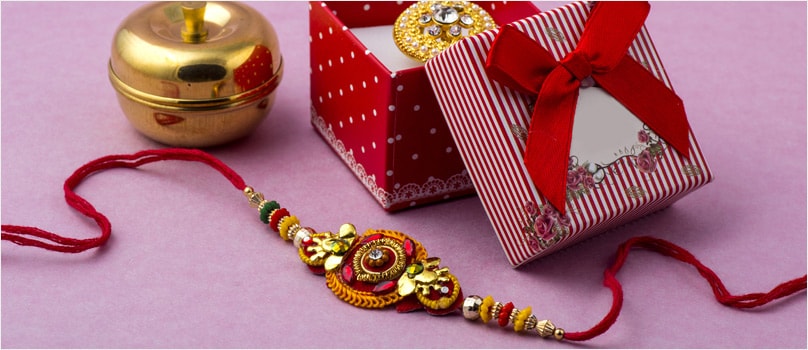 Rakhi is one of the auspicious occasion for Indians, celebrated with merriment and grand feasting. Sisters plan for this festival much before the day arrives. Rakhi is one of the most awaited occasion for both brothers and sisters. People decorate their houses and perform 'puja' on this pious occasion. People exchange Rakhi gifts and distribute sweets among relatives and friends. If you are wondering Rakhi. On this day, sisters take early bath and wear new traditional clothes. They keep fast until they perform the 'aarti' of their brothers wishing the best for him, put red vermillion 'tikka', tie rakhi on their wrist and sweeten their mouths with special prepared sweets and delicacies. Brothers in return promises to protect their sisters from all adversities of life. After all the rituals get over, exchanging Rakhi gifts and grand feasting are followed.
But in recent times, it has become difficult to visit home for the non-resident Indians on this special occasion. Thus, various online gifting stores have emerged to facilitate their customers to send Rakhi threads and gifts to their loved ones. Giftstoindia24x7.com deserves to be mentioned as the most preferable site for its dedicated 24x7 customer support and efficient delivery service. This store has enabled many global Indians to send gifts to their loved ones on Rakhi. By availing the services of this online portal you can send Rakhi gifts to India to any corner of the world.
The site has showcased plenty of Rakhi threads and gifting items which you can select by browsing through the site. You can shop at Giftstoindia24x7.com on the occasion of Rakhi and enjoy the hassle-free gifting. If you are planning to gift your brother this Rakhi, men's Jewellery and apparels will surely bring a smile on his face. Ties can be worn in formal wears and uniforms. Now tie has become an essential part of men's fashion. Latest trend of fashion supports vibrant colour of ties like green, blue, pink, teamed with both light and dark colored shirts. The online portal has arranged elegant ties of different colors which can be sent to your brother with Rakhis to India. You can avail formal shirts from various brands such as, Louis Philippe, Park Avenue and Van Heusen. You can pair the shirt with a formal trouser from Park avenue or Moustache. If your brother is a college student, he will love to receive a trendy jeans or denim shirt as gift.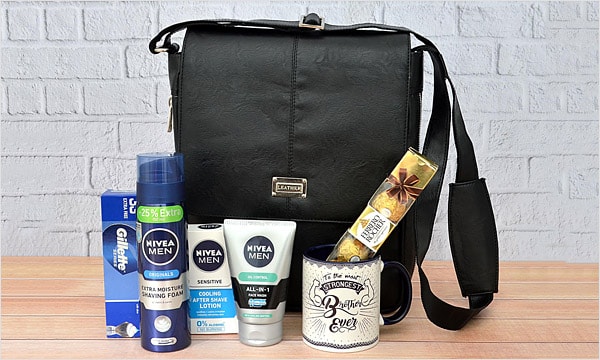 Men's wardrobe is not just a collection of shirts and pants, but it comprises more than that. Besides shirts and pants, a men wardrobe also includes accessories like belts, shoes, socks, jewellery, etc. A perfect wardrobe is a man's asset which enhances his personality and style. This website will help you to decide about the perfect jewellery item for your brother. In fact, many men have so many pendants, rings and bracelets one might consider men's jewelry boxes the ideal gift. Modern jewellery for men enhances their look and style. Your younger brother will be enthralled to receive these trendy jewellery as gift if coupled with Rakhi to India.
If you know how to make Rakhi greetings card, you can send one along with your Rakhi gifts to surprise your dear brother. Send your precious emotions along with your Rakhi gift through our site and make the occasion eventful and memorable.