Unique Ideas to make your New Year Party special
New Year parties are supposed to be phenomenal with various plans and programmes being made. The decoration of the venue is also a very important topic with new and unique ideas being always welcome. It is also customary to send gift to India for friends and relatives during this joyous season. If you are organising a Near Year eve party this year then this is going to be a very busy time for you. You have to plan and arrange for many things, including delicious food, and also think of various modes of entertainment. Here we have gathered for you a few innovative ideas that can make this coming party season an even more fun one for you.
Decorating with Candles
Candles are a very preferred mode of decoration as their light can add glory and charm to any occasion. You can decorate the whole area of the party place with candles and this works especially well for the dining area. Many varieties of candles can be found that you can use coming in different shapes and forms.
Making Paper Snowflakes
Snowflakes are what we think of when we talk about parties during the winter season, like New Year. However, it can be hard to decorate your place with actual snowflakes as they are not that easily available. Hence, you can opt for artificial snowflakes made out of paper that you can hang from your ceiling to have a wondrous effect.
Bringing Noise Makers
It is customary to make a huge clamour and clangor at midnight during the start of a wonderful New Year. Thus, noise makers play an important role and many different varieties of these fun elements can be found. You can ask your guests to bring their own noise makers and in this way no one will feel left out.
Arranging Pot Luck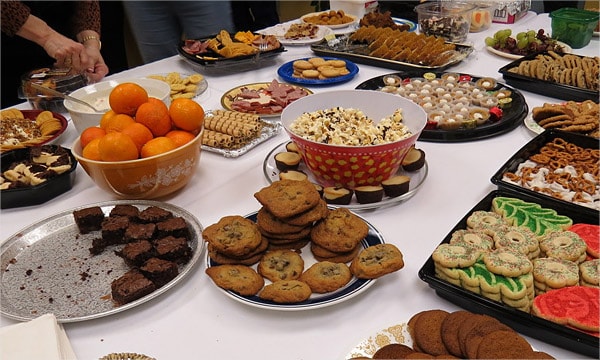 A pot luck is where all those attending it are asked to bring any one delicious and yummy food item. Thus, a large variety of dishes are brought out on this occasion with many different flavours. You can prepare a few of your choicest recipes and ask your guest to bring a delicacy of their choice to further spice up the event.
Exchanging gifts on this occasion is also a very common ritual and this online gift store showcases many such items. There are different types of corporate gifts on this online gifting portal that you can send to India. The Chocolate Delight in Box is composed of delectable handmade chocolates in brown and golden box. Many kinds of exclusive hampers are also available on this gifting site that contain various items. The Basket of Tea and Drops comes in a red and white basket filled with a tea pack and boxes of candy.
Make your New Year party extra special with these and many other wonderful ideas for this event. This day can be made even more memorable if you send online gifts to India for your loved ones. You can also find a variety of other gifting options here for this and many other occasions, like Christmas.