Send gifts to your sister on Rakhi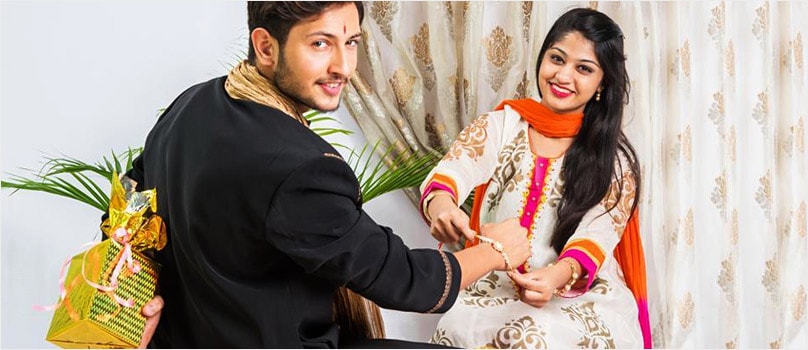 Rakhi or Raksha Bandhan is a festival, celebrated and dedicated to respect the brother-sister bond of love. Rakhi is celebrated with a lot of fun and frolic by Indians in every corners of the world. Besides tying Rakhi on the brother's hand, exchanging gifts, grand feasting and distributing mouth watering sweets are also a part of the festivities. These acts make the Rakhi festival all the more interesting and people wait eagerly for the day to arrive. On the auspicious day of Rakhi, guys usually prefer to go for traditional outfits like kurta-pajamas and sisters wear salwar-kurta, chudidaar-kurta, saree, lehengas, and other traditional apparels. Now-a-days, when a large people stay away from home, due to their educational, job or married life responsibilities, the sisters, who are not able to reach their brothers on this auspicious day, send Rakhi gifts for their brothers through postal or courier services.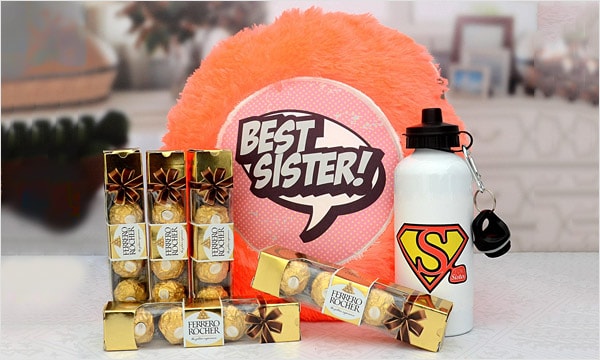 On this festive occasion of Rakhi, the markets are decorated with a wide variety of colorful and beautiful fancy and designer rakhis and gifts. These rakhi threads are made of resham or zari and decorated with different items, like beads, semi-precious stones or imitation jewelry, etc. Sometimes, these rakhis are also decorated with silver, gold and diamond. Amongst various online gifting stores, Giftstoindia24x7.com is one of the most preferable sites to send Rakhi to India. This Rakhi, you can surprise your dear sister with enchanting gifts. The site has categorized the Rakhi gifts into different sections, such as Rakhi Gifts for Brother, Gifts for Sister and so on.
In the Gifts for Sister category, there are variety of feminine gifts, such as sarees, jewelleries, cosmetics and many more which your sister will love to receive. You can avail perfumes and miniatures from internationally renowned brands such as Gucci, Dior, Calvin Klein, etc. In its saree section, you will get Zardoshi, Crape, Chiffon and many more from gorgeous to plain. The heavy saree boasts of stunning floral and zari embroidery all throughout its body and also has chumki and beads stitched giving it a glamorous touch. These sarees could be a perfect gifting idea to Send Rakhi gifts to your sister. You can couple saree with cosmetics from renowned brands available in the site, such as Garnier, Lakme, Himalaya, etc to make Rakhi charming and memorable. Your sister will be enthralled to receive a designer watch matching with her favorite outfit or else you can impress her by sending a corporate looking watch if she is a working professional. You can also opt for Gift Vouchers to India, if you find it difficult to select a Rakhi gift for her. With these, she will get a chance to select gift by herself as well as a nice opportunity to shop.
Brothers and sisters express their feelings towards each other with the help of greetings cards, available in the market. If you know how to make Rakhi greetings card, you can send the same with two small lines of love to your sister. This will add special charm to your gifts. Girls also can send Rakhi to India along with exclusive Rakhi gifts to their brothers availing the services of Giftstoindia24x7.com. Your Rakhis to India will be delivered right on time to enhance the charm of the festival. Send gifts to your sister through Giftstoindia24x7.com and enjoy the hassle- free gifting. The 24x7 customer care support will be there to assist you through the whole process.