Gifts for Kids on Rakhi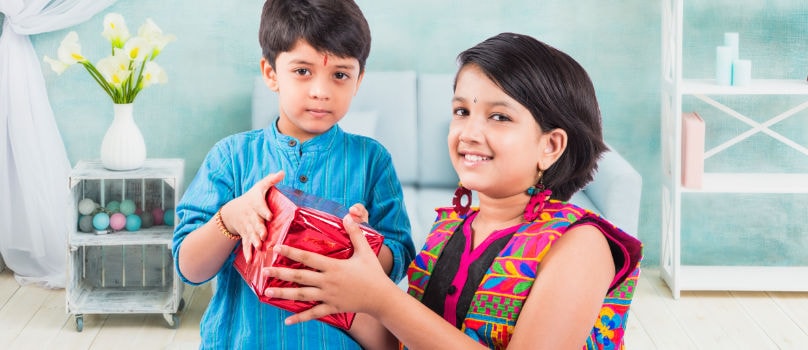 Rakhi is a very special festival for the Indians. This is such a festival which has its origin from time immemorial. This significant festival celebrates the bond of love between a brother and sister. On the holy day of Rakhi Poornima the sisters tie a sacred thread called Rakhi on the hand of the brother. This thread is considered to be a protector of the brother against all evils, and ensure his long life. Rakhi to India therefore is a major festival in India. This festival is celebrated with pomp and grandeur throughout the country. In different regions this festival is celebrated in different names but the essence of the celebration is more or less the same. The festival is made grand.
The history of rakhi is many and varied. Legends say that Yamuna the sister of Yama tied rakhi on her brother's hand to protect him from all evils. Thus every sister ties rakhi in order to protect his brother from the evil power of Yama, the god of death. Rakhi has always been a significant festival for brothers and sisters of all ages. But the actual importance of rakhi is realised when siblings grow a little older like when they are teenagers.
But to little kids rakhi to India is only a festival of fun. On this day they are especially happy because they have no studies, they abide by all the rituals according to their guardians. In the morning they have to bathe and wear fresh clothes before starting the customs of rakhi. After tying rakhi there is grand feasting in the house. This is followed by exchange of gifts and this is simply loved by kids. There is a gathering of all the siblings in the house and together they make lot of fun.
The scenario is quite different in the case of siblings who are separated by geographical distance. Maybe their parents have settled abroad for profession that cause them to stay away from home. For them rakhi makes them nostalgic and morose. But just like every cloud has a silver lining, in this case too there is a ray of hope, to send rakhi to India online through the online portal service of GiftstoIndia24x7.com. This is a online store that lets you send rakhi to India with just a click of the mouse. Here you will find everything related to rakhi, be it rakhi threads, rakhi gifts or rakhi sweets. For kids Rakhi is all about getting new gifts and making fun with other siblings. So why not retain the smile on their face through some rakhi gifts to India on the special occasion when they lose the opportunity to spend the time with their lovable siblings. Considering their emotions this site has arranged Rakhi gifts specially for the kids. There are rakhi gift for kid brothers as well rakhi return gifts for kid sisters. So while you will be able to send rakhi to India cheapest you will also be able to send rakhi gifts with them for the kids. There are lots of variety in case of gifts for kids on rakhi. Some of them are categorised here:
Educational Games - For growing kids Educational Games are the best gifting option. These games are such that are fun to play with but at the same time teach the child something. They generate an interest for the game and at the same time learn something new without feeling bored. At this site there are lot of such games available like Scrabble which teaches kids to learn new words, increase their stock of vocabulary necessary for daily conversation. Then games like Puzzles increase kids' intelligence and patience. Playing with medical kit increases their interest to work with doctor's accessories like stethoscope, thermometer, a bracelet style bandage and be a doctor in future. There are even more games that helps them to build sentences, teach them shapes names of birds, animals and so on. These games can be given to both girls and boys. Choose the best among them while doing Rakhi shopping this year.
School Items - A kid grows up fast and nowadays parents admit their little kids to school within 3 years of age. So School Items are a necessity for kids now. All types of School kits are available at this site that includes school bags, tiffin set, pencil stand, pencil box, color pencil box, crayon set and lot more to add on. So if you have a school goer in your family you can definitely opt for a School item kit. Thus this year send rakhi to India with an enticing gift to your sibling.
Barbie Dolls - These are specially for girl child whom you can gift Barbie Dolls as return gifts for rakhi. Dolls are a girl's first best friend in life. It is said that a girl learns to raise up a family from the time she starts to play with a doll. They love acting as a mother to the Doll and take pleasure in taking care of her. So here there are unique range of dolls that perform a lot of action and give joy to a child to play with her. One kind of doll is Little Mommy My real baby which eats popsicle, talks, sneezes, play like a real baby. The kid in the family will surely dance with joy when she gets this doll as gifts. Besides there are Barbies, Liv Dolls and many more.
Hot Wheels - Hot Wheels are a popular name in the world of toys. They bring out cars and sets that are generally for the little boys who loves action and stunts. There are action loaded cars sets of toys that perform various functions in the set like move on the track, rise on heights, perform stunts and so on. Popular toys in this category are Hot Wheels Pizza Power, T-Rex takedown, Color Shifters Car etc. Amaze the naughty little one with a hot wheel gift.
Enthrall little kid siblings with a gift from GiftstoIndia24x7.com this year on rakhi and let them forget that distance separates them and their love from each other.