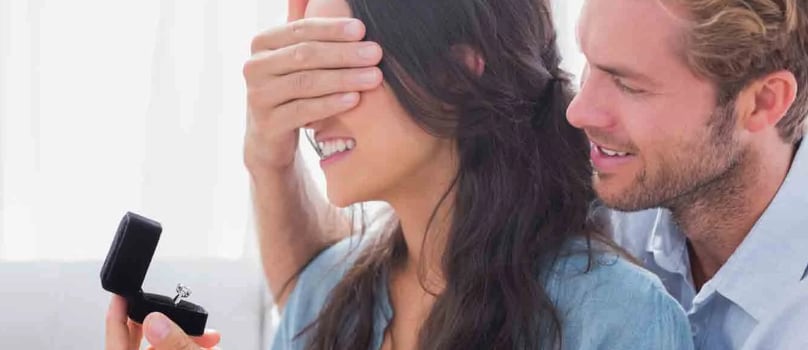 Image Credit : credit.com
A fiancee is a woman with whom you are engaged to get married. You must show her that she is welcomed with arms wide open. Getting engaged to her means that you are committing yourself to her.
It is also a way to acknowledge her presence in your life.
There are various gift options that you can choose from for your fiancee. You have to show it to her that your love is true and bond, strong. Sending gifts is a way to tell her that you care about her more than anyone. It is also a way to tell her that you will always be there by her side, even even after sharing years of nuptial bond with her. Commemorate your nurturing relationship by showering your love on her , in the form of gifts.
Getting engaged is all about "firsts"; first official movie date, first drive, first dinner, etc. You have to choose your gifts accordingly. Engagement life is the most exciting part of one's life. You get to work on your togetherness, team-building and whatnot! There are various gift ideas that you can think of if you plan on doing something for her after the engagement.
Flowers
Giving flowers as a gift speaks volumes about you. It is all about the love, joy, affection, romance that exists between the both of you. Flowers are also a way to help you communicate your truest feelings that you have in your heart for her. A single stem, or a beautiful floral arrangement will be a perfect and the sweetest gift that you can give to her.
Jigsaw Puzzles
Since you are about to start an absolutely new phase with your partner, then you might want to give jigsaw puzzles a chance. Puzzles are a sweet way to spend some time together. It is also a great way to work on team-building. After all, you as a couple are a team, right!?
You can even opt for a personalized jigsaw puzzle. You can get your first picture together printed on the puzzle. You can even choose to print your engagement's picture on it.
Chocolates
Want to know another sweet way to impress your fiancee? Chocolates!! You can choose from the wide plethora of these scrumptious spreads. Apart from the usual chocolate bars, there are various handmade, premium chocolates available in the market. The best part is that you can even get these chocolates personalized.
Express Dates
If you are an ardent How I Met Your Mother fan, then you know exactly what is being hinted at!! Oh and also you can refer to Dilwale starring SRK and Kajol. Though implementing it in real life might be a herculean task. But there is no harm absolutely in trying it out, right?
Start off with a cozy roadside meal
Conclude the meal with a dessert
Conclude the date with flowers
Tell us if you ever plan to try it out while impressing your fiancee.
Aromatherapy Gifts
Scented candles, essential oils, diffusers and other items are what you can send her as gifts. If she is a working professional, or she is stressed about some things, then aromatherapeutic gifts from you will prove to be thoughtful and useful.
Plan a fruitful day for her
To make things more interesting, you can ask her out on a date. A date that will actually help you get closer to one another. If you are in a long distance relationship, then also there are certain things that can bring you both closer.
You can plan a day of relaxation for her. You can either book a spa appointment for her, or you can even go on a couple spa session.
Apart from spa, you can plan a library or even a game night date with her. Library is a romantic place to date. The romance intensifies while flipping through the pages of her favorite book in her favorite library, doesn't it?
You can also surprise her with a candle-light dinner. Even if you are in a long distance relationship after your engagement, then you can choose to be together on a video call. Enjoy your candle light dinner, or Netflix and chill virtually.
Celebrate Firsts Together
Post your engagement, there are going to be many first days with her. Her birthday or yours, the anniversary of the day that you met each other for the first time, valentine's day and many many other days!! You can think of ways in which you can make these days special for her.
Personalized Jewelry
Nowadays, the world of jewelry has come up with personalized sets. Yes, that's right! You can choose from alphabetical pendants. For example if her name starts with S, then get a S-shaped pendant. If you have a hashtag for your name, then you can get a name necklace. You can also think of going old-school. You can give her a photo pendant.
Apart from these, there are many other options that you can think of. The main aim of the first gifts is to bring the two of you closer than you ever were. Spend time with each other and create memories that shall last a lifetime even after you get married.