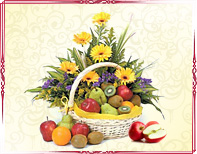 Introducing new variety of gifts in the online gifting business, GiftstoIndia24x7.com is proud to announce a wide range of fruits and flowers baskets which one can send to one's loved ones in India. The flowers and fruits baskets will surely entice the senses of your loved ones. The fruits and flower baskets will be hand-delivered at the door-step of the loved ones on their special day, making their occasion truly special.
Gifts are a way of letting our loved ones how much they mean to us and that we thank them for being there for us. These flowers and fruits baskets have been created for giving that additional effect on the part of the receiver. Over a dozen varieties of fruits and many varieties flowers are there in the section. Customers will now be able to enthrall their loved ones with the wide range of gift baskets. There are many other gifts which can now be sent to one's loved ones along with the baskets. These gifts will make the occasion even more special for one's loved ones in India.
"The flower and fruits baskets are launched in order make gifting experience for our customers, a pleasurable one," commented our company CEO, Mr. Amit Desai. The gifts will reach one's loved ones just in time for the festivities and will surely cast a spell on them on their important day.