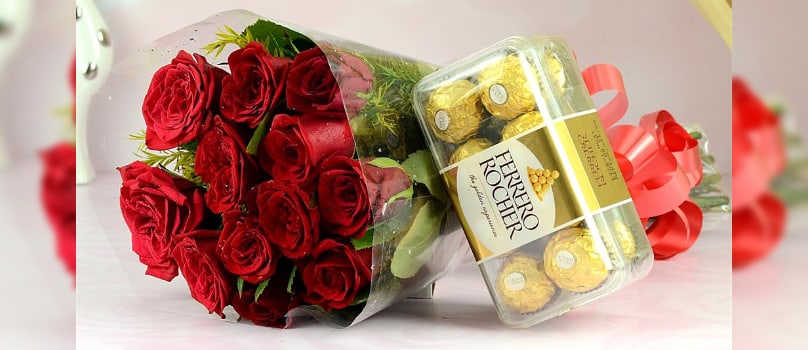 Receiving gifts on any occasion or festival further heightens the joy of the celebration. Gifts are also a great way to express your feelings of love and adoration to the recipient. One of the most traditional gifts which are still in fashion today are flowers and chocolates. Whether it be birthday, anniversary or any special occasion, these are very popular among gift givers. This is mainly because flowers are beautiful creations of nature which can brighten anyone's day. Even a single stalk can convey your innermost feelings to your loved ones. Couple these with a box of delicious chocolates and you have a perfect gift.
GiftstoIndia24x7.com is an e-gifting portal that offers you a wide variety of flowers and chocolates which you can send as gifts to India. This site has been assisting several individuals all around the globe to make their dear ones day more memorable. For any occasion such as birthdays, Mother's day, Father's day, Valentine, etc, and festivals like Diwali, Holi, Raksha Bandhan, etc, you will find gifts for all in this e-gifting site. Amongst gifts available in our site, the collection of flowers is worth mentioning. From beautiful bouquets of roses, gerberas, lilies to exotic orchids, you will find them all in the 'Flowers to India' section. Besides these, you can also choose whether you want to gift these beautiful flowers as a life size or exotic arrangements.

In the 'Life size arrangement' section, you will find across a wide variety of flowers arranged in a very beautiful manner. As the name implies, each of these are very big in size so will be an appropriate gift for any occasion or festival. If you want to surprise your loved ones with a beautiful bunch of several varieties of flowers then you can check out the 'Exotic Arrangement' section. Here, you will come across attractive arrangement of roses, carnations, lilies, carnations along with several seasonal flowers. Depending on the recipient's preference, you can select any of these flowers as gifts to India for your loved ones.
Apart from these, in this section, you will also find a wide variety of beautiful flower baskets which will surely bring a big smile on the recipient's face. You can take your pick from delicate pink roses, white lilies, passionate red roses and many more. We, at GiftstoIndia24x7.com also offer a wide collection of fruits flowers baskets. Apples, bananas, peaches, kiwi, oranges, pear are some of the fruits which these attractive baskets are filled with. Since we have been delivering these fresh flowers and fruits since over a decade, you can send gifts to India through us without any hesitation.
Once you have selected the type of flowers which you want to send, couple these with a delicious box of chocolates from our site to give it that perfect touch. Chocolates are enjoyed by people, young or old. Keeping this in mind, GiftstoIndia24x7.com offers you a wide plethora of chocolates which you can send as gifts to India from US or any corner of the world. If you are planning to send these lip-smacking delicacies on festivals such as Diwali, Holi, etc, you can opt for 'Chocolate Hamper' or 'Chocolate Thali'. Presented in beautifully decorated trays, each of these are filled with chocolates from renowned brands such as Cadbury, Ferrero Rocher, Vochelle, etc.

If your loved ones favour handmade chocolates, we also offer you the same wrapped in glittering paper. Each of these delicious chocolates are presented in attractive boxes which will further add charm to your gift. Thus, send chocolates to India with flowers to your loved ones with our assistance and make their celebration truly memorable.