Make Father's Day celebration special with exclusive yet useful hamper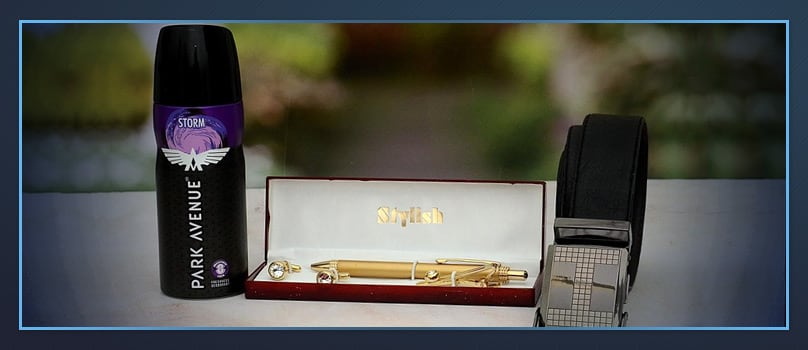 This Father's day make you father feel special for everything he continues to do and things that you have done together with him. Such special are those moments that they need to be captured, cherished and revisited over and over again. So, choose a gift hamper from our exclusive collection and send gifts to India from US through us. A gift hamper as a Father's day gifts to India works best because it has the tangible utility value along with the emotions with which those are sent. We bring you a few suggestions of gift hampers for you to choose from.
Bag and men's accessories Hamper
This hamper comprises a smart laptop bag, a body spray, shaving brush and other personal grooming products. All of them handpicked to make the perfect combo gift for your father who is savvy and always like to be prim and proper. Visit our website to take a sneak peek of this gift hamper and make this day a memorable one by sending gifts to India. The hamper also has smart golden cuff links that would go perfectly with your father's choice of shirts. In these India gifts all items are highly useful and have a usability value to leave a long lasting impression.
Suave Hamper
This hamper perfectly suits the sophistication your father prefers. It comprises a Portfolio Bag, a necktie and a Parker Vector Pen. All of them with taste for the connoisseur, your father. Choose this gift hamper on this Father's day to gift your dad and make him look prim and proper, which he usually is. So, send gifts to India by choosing this gift from us and we will have it shipped and delivered in time just in time for the Father's day celebration.
Gentleman's Hamper
This gift hamper consist of a wallet, a Van Heusen shirt and a belt. By the composition of this gift hamper, this is the perfect gift for dads who are suave and prefer formal wear as a style statement. You may be thinking that you will run the risk of sending something which he already has, but as a gift hamper the combination of the shirt, wallet and a matching belt to go with it is something your loved one will embrace as a combo gift. Visit our website to check this option and send gifts to India through us. Just like the numerous deliveries we do throughout the country, this one too will reach your father well in time and for the special occasion.
Attractive Pair Hampers
This gift hamper consists of an Azzaro Chrome Perfume for men and shirt. We particularly like the choice of Azzaro perfume in this hamper. The fragrance is just stunning and very masculine. Most likely to go with your dad's dashing personality! Visit our website to have a look at this gift hamper and send gifts to India from USA.
Choose a gift on this Father's day from our wide range of collection of useful gift hampers for your dad and rekindle the super happy times you spent with him during your growing up years and send gifts to India.