GiftstoIndia24x7.com introduces this new attractive collection of branded cosmetics which constitutes of products from several reputed brands. This gifting site hosts a number of such exclusive and attractive items that will surely appeal to you. Brands like L'Oreal, Dove, Olay, Nivea, Garnier, Adidas, Pantene, Lakme, Himalaya, Ponds, Shahnaz Husain, Lotus, Clean & Clear, Sunsilk, VLCC, Oshea, Sure and Secret Temptation are available here. They are available in the form of attractive hampers along with baskets, trays and towels as well. You can send cakes to India along with these cosmetics to your friends and family. They will make a good gift for any occasion and you can easily use them to send birthday gifts to India. You can also opt for gifts to India same day delivery to send these cosmetics as gifts.

The Exclusive Lakme Hamper consists of 8 products from Lakme. It contains Skin Gloss Reflection Serum, White Intense Wet And Dry Compact, White Intense Skin Cover, Hi-Definition Matte Lipstick, Gel Stylist Nail Polish, Gloss Artist and Kohl Ultimate Kajal from Lakme Absolute and Lakme 9 to 5 Eye Colour Quartet. The Lotus Lady Hamper is composed of 8 products from Lotus in a basket. It is made up of Active Anti Aging Foaming Gel, Firming Face Masque and Exfoliator, Ph Balancing Multi Active Toner, Youth Activating Serum and Creme, Anti Ageing Eye Contour Creme, Transforming Creme and Nourishing Night Cream from Lotus Gineplex.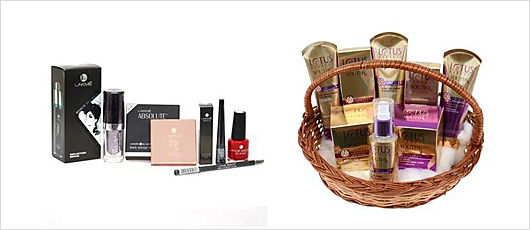 The Essential Pond's Hamper is formed of 9 products from Ponds in a basket along with a towel. It comprises of Gold Radiance Serum, Day 15 Spa, Cleansing Mousse, Ultra Rich Day Cream and Night Repair, Age Miracle Super Serum, Facial Foam and Deep Action Night Cream and Cell Regen Day Cream. The Rejuvenating Oshea Hamper includes 8 products from Oshea in a basket. It incorporates Pythowash Sulphate Free Luxury Face Wash, Basilclean Cleansing Lotion, Phytonight 9-in-1 Multipurpose Night Cream, Glopure Fairness Face Pack, Fairness Serum and Anti Tan Scrub, Rose Fresh Facial Skin Toner and Phytolight 9-in-1 Multipurpose Day Cream.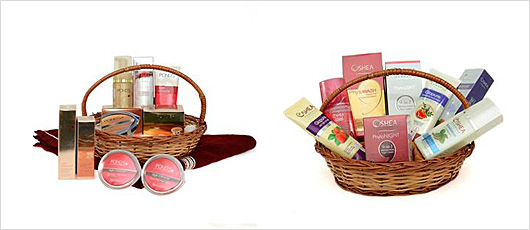 The Olay Beauty Hamper showcases 6 products from Olay in a basket along with a towel. It exhibits Foaming Cleanser, Body Wash, Day Cream and Natural White Day Cream, Night Cream and Fairness Day Cream. These products have been assembled together into a hamper. The Himalaya Herbal Skin Care features 10 products from Himalaya in a basket along with a towel. It presents Daily Face Wash, Fruit Pack, Clarifying Fairness Face Wash, Anti Hair Fall Shampoo, Nourishing Skin Cream, Light Cool Body Lotion, Lip Butter, Fairness Cream, Nourishing Soap and Sunscreen Lotion.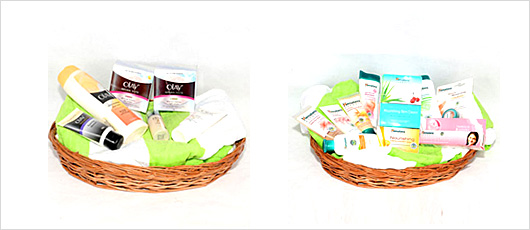 While talking about this new collection, Mr. Amit Desai, the CEO of this organisation, states that, "Sending online gifts is a growing trend that is being followed everywhere nowadays as it is quite convenient. This amazing collection of branded cosmetics that has been launched by GiftstoIndia24x7.com makes a very exclusive set of gifts. These along with many other items can be easily sent to your friends and family in India."