Send Christmas gifts to India from USA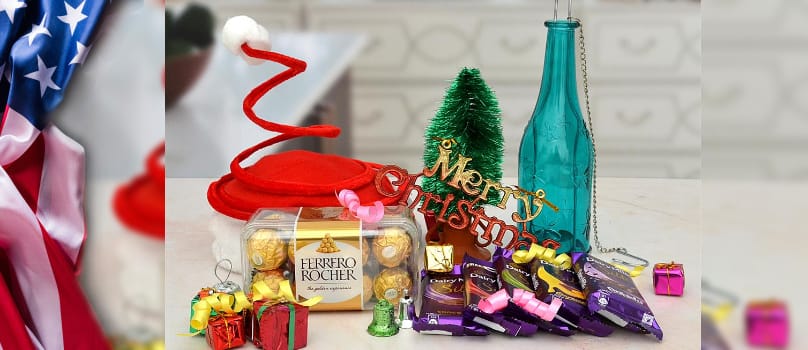 Christmas is just round the corner. People all around the world celebrate this grand festival with lot of joy and enthusiasm. Exchanging gifts is the core custom of this festival. So if you are not with your dear ones, you can send gifts to India from USA. The celebration of Christmas starts on the eve of December 24. On this special festival, people decorate their house with Christmas tree, stars, bells, light candles and many more. Every family member gather together on Christmas for a reunion. They attend 'Midnight mass' on Christmas Eve which marks the beginning of the festival. People exchange Christmas gifts to spread joy & happiness as well as to convey warm wishes. Along with exchanging gifts, people enjoy this festival with feasting as well as merry making.
Christmas celebration differs from place to place. In USA, Christmas celebration greatly differs from region to region. In Pennsylvania, the Moravians create a landscape below the Christmas tree, known as a putz. In Hawaii Santa Claus arrives in a boat under the sunny skies, and the dinner is eaten by people outdoors. In Washington D.C., a large size, Christmas tree is decked with lights and other decoratives. The lights are turned on when the President presses a button. In USA, traditional Christmas dinner includes vegetables, fruit pudding with brandy sauce, assorted desserts, pastry and so on. Almost all Americans celebrate this festival by exchanging Christmas gifts and greetings. However, people in India celebrate Christmas with glory, devotion and pomp. Singing Carols, decorating the house with candles and miseltoe, visiting churches etc are the core essence of this festival. Christmas celebration varies from culture to culture. In South India, people decorate their house with clay lamps, instead of pine tree they decorate mango or banana tree, while the northwest tribal Christians of Bhil travel night after night and sing Christmas carols.
People living all around the World, try to make Christmas celebration special. However, often due to professional commitment many global Indians miss the chance to be with their family and friends on this grand festival. However, in such situation they can delight their dear ones by sending gifts to India from US through online portals. Amongst various e-gifting stores, GiftstoIndia24x7.com is a proficient one. The store showcases gifts for popular occasions and festivals. Thus if your are searching Christmas gifts for our dear ones, you can avail varied gifts in the "Christmas Gifts" section.
Since, the festival celebrates the birth of Lord Christ, you can charm your dear ones by sending cakes as gifts to India from USA. Various types of mouth-watering cakes such as chocolate, vanilla, strawberry, fruit cake and so on. Along with cakes, you can enthrall your dear ones by sending Christmas trees, Christmas stars, Christmas candles as gifts to India from USA. Your dear ones will be delighted to decorate their house with these decoratives on Christmas.
If you want to give a complete combo to your dear ones then you can opt for Christmas Hampers. In the Christmas Hamper section, you will avail diverse types of hampers such as chocolate hamper, dry fruits hamper and so on. Every hamper comes with diverse types of gift items which will surely add smile on your dear one's face. You can convey your best wishes by sending a greeting card coupled with cake and a bunch of flowers.
On this grand festival, people usually adorn themselves in colorful apparels and accessories. Thus you can surprise your close ones such as parents, friends, sister etc by sending beautiful outfits, jewellery and personal care items as gifts to India. They will surely be overwhelmed to receive these Christmas gifts. You can cheer up the dear kids by sending amazing joys, video games, educational games and chocolates. Receiving these gifts, they will surely be filled with ecstasy and joy.
Christmas is the season to spread joy and happiness. Thus make the Christmas celebration memorable and cheerful by sending Christmas gifts to India from USA.