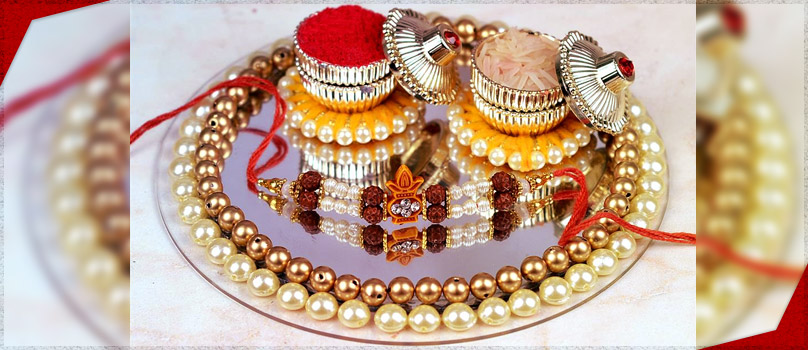 Rakhi is one of the most sacred festivals of the Indian culture. Rakhi is a time of togetherness, a time when the entire country is celebrating the spirit of relationships, the love that brothers have for their sisters. Rakhi makes the family bonds get all the importance they can get. A family is the pillar upon which the character of the person is built. Rakhi is the festival that celebrates this bond. GiftstoIndia24x7.com is an online gifting company that helps Indians from all around the globe send Rakhi and Rakhi gifts to India to their loved ones. Distances loose the meaning and the persons are closer to each other. This festival that is celebrated on "Shravan Soodh Poornima" makes the entire family come closer to each other and this makes family ties last the distances.
In ancient times, a married woman used to tie 'Rakshaa' on her husband's wrist to protect him from all the evils. With time, women started tying Rakhi on their brothers' wrist but for the same reasons - to protect him from all the evils and to keep away all those factors which may taint his character. Rakhis are available in a huge variety during Raksha Bandhan such as Zardosi Rakhi, Golden Rakhis and other Fancy Rakhis like Pearl Rakhis, Diamond Rakhi etc. Girls and boys eagerly await this festival as they get a day off to have pure, unadulterated fun. After the sister ties Rakhi on her brother's wrist, the brother thanks his sister by giving her a gift and they have a fun-filled day later on. We salute this spirit of relationship by launching a range of Rakhi Gifts to India.
Times have surely changed and so now-a-days loved ones have to stay miles apart from each other. Due to career-consideration, many people have to leave for foreign shores. As a result, they are missing out on important family occasions. Brothers and sisters from the world over are, thus, looking for ways to send Rakhi to India. We help you send not only just rakhi, but also beautiful Rakhi gifts to your loved ones in India. Sending a rakhi to your dear brother from so far away will make him cheer up and spend his entire day remembering all the good moments he has shared with you. Your's and his rakhi wishes will come true and you will have an instant connect with your loved ones. We have got a huge range of Bhaiya-Bhabi Rakhi hampers, Sweet hamper, Rakhi - thalis that will surely add to the festivities.
Now, you must be wondering as to when is Rakhi? Every year rakhi is celebrated on the full moon day of Shravan which is a month as per the hindu calendar. Making your sister's/brother's Rakhi special by sending Rakhi gifts will definitely be a good option. When that person receives that perfect gift along with Rakhi like perfumes and flowers, he/she will surely jump with joy and will remember you, and will want to be with you. We service to across 400 destinations in India and so when you send Rakhi to India, you can be rest assured that your Rakhi and its accompanying gifts will definitely reach your loved ones just in time for the festivities. Our 24x7 customer support will guarantee peace of mind to you and so your gifts will reach without a hassle and you can reach us anytime. Wait no more and send Rakhi Gifts to India to impress your loved ones and make your Rakhi really special.