Send Cakes and Flowers to your beloved on Valentine's day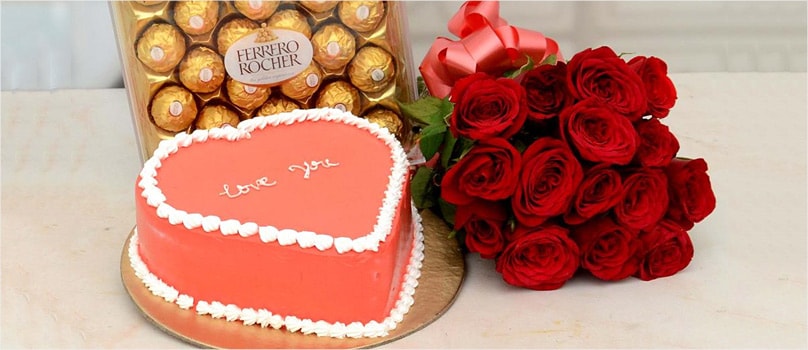 "I love you, not for what you are, but for what I am when I am with you." - Roy Croft
There are days and there is Valentine's day. Every year, on the 14th of February, lovers around the globe celebrate this day as the single most important day in their relationship as they celebrate Valentine's day with their loved ones. Valentine's day have been celebrated throughout the world with the same passion and zeal as it was centuries ago to honour St.Valentine, the "friend of lovers".
There is a wonderful feeling associated with Valentine's day. Lovers look forward to this day just like a peacock waits for the seasonal rains. They elate your dear ones by sending gifts on valentine's day. Speaking of gifts, gifts are an inseparable part of celebrating Valentine's day. Valentine's day gifts are special, they not only help bring two lovers together but also cements the bonds and helps them last a lifetime. And the look that every lover sees in those eyes when his beloved one receives the gift make gifting on Valentine's day all the more special. Gifting has changed from simple hand-written notes to chocolates and stuffed toys.
Internet has revolutionized the way lovers can gift each other, transcending borders, transcending boundaries. If you have that special someone and want to make that person feel special but are in some other part of the globe, do not worry anymore. You can now send gifts to India on valentine's day with just a click. You can be rest assured that we will make it sure your gift to that special someone reaches your beloved one just the way you want them to. So click here to send valentine's day gifts to India and be tension-free, just like the way we want you to be.
Now you must be thinking as what to send to your beloved one this Valentine's day, right? We at GiftstoIndia24x7.com are ready with the answer to that one too. We help you to send gifts to India. We have got loads of stuffs for you to choose from. Cakes and flowers are the all time best. They help you immediately win the hearts of your loved ones. The significance of cakes and gifts are a little deeper. Cakes signify the softness and the tenderness that your loved ones deserve from you and which you will rightly shower them with. Flowers express a myriad of emotions, ranging from how do the loved ones fill your heart with life and the blossom the sadness away from your life, forever. So, say "good-bye" to worries and send gifts to India on Valentine's day. Cakes and Flowers are ideal for your beloved and so click to win your sweetheart's love, once again and send Valentine's day gifts to India.
Valentine's day has dramatically altered its approach from being the festival when lovers unite to a festival where love of all types gets celebrated. Father-Mother-Child, Brother and sister, all unite and celebrate this day with great enthusiasm and vigour. So, if you want your son in India to know how you fell alone without him, send a personalized note with a beautiful gift of Cake and flower and send the gift to India from USA. We at GiftstoIndia24x7.com help you choose and send gifts to India, gifts which help you convey those special feelings which words may fall short of. Thus make this Valentine memorable by sending gifts through us.