Send Cakes and Flowers as Gifts to India from UK on Any Special Occasion
Cakes and flowers are timeless gifts that are appropriate for any occasion. No matter what the festive occasion is, you can never go wrong with this combination. Cakes and flowers signify celebration and respect. Flowers have the reputation of lifting moods and brightening up anyone's day. When combined with a delicious cake, flowers can easily lend charm and grace to the joyous occasion. You can easily send a yummy cake and a bunch of beautiful flowers to your loved ones, when you plan of sending gifts to India from UK.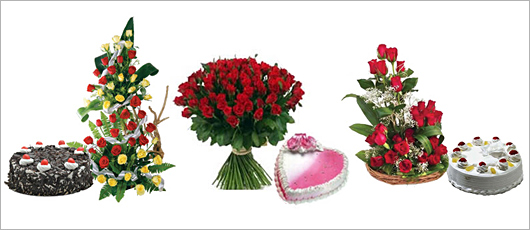 When you plan to send gifts to India same day delivery service of GiftstoIndia24x7.com, will come to your rescue. Since both cakes and flowers are perishable items, you need to make sure that these products are quickly delivered at the doorstep of your loved ones. You can also opt for same day delivery service, if in case you have not made any plans in advance to make the special days of your loved ones, extra special.
You can also make your near and dear ones feel extra special by sending them personalized gifts like personalized mugs, personalized photo frames, personalized pillows, personalized rock photos etc. With so many options to choose from, you can easily send personalized gifts to India to your loved ones, just with a few clicks of the mouse. Here is a list of few cakes and flowers combo that you can think of sending to your loved ones in India.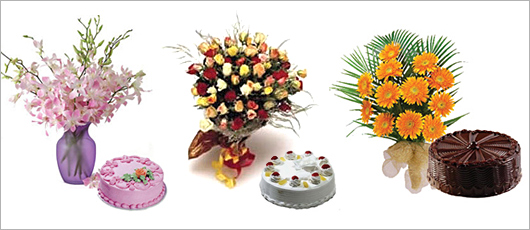 Bright Morning Cake and Flowers Combo
The bright morning combo is perfect for a fun filled surprise when your loved ones least expect it. You can brighten up their day early in the morning with the bright morning cake and flowers combo. It includes a bunch of 12 beautiful Gerberas that are arranged together with a beautiful cloth and comes with a delicious ½ kg eggless cake made with the finest chocolates and cocoa.

A Lovely Combo
You can send this lovely combo to your lady love on special occasions like her birthday, Valentine's Day or to mark the anniversary of your wedding. It features a staggering 100 roses to show respect and love to your wife or girlfriend. Rose is considered to be the most powerful symbol of love and it is not every day that your loved one will wake up and become pleasantly surprised with a staggering 100 roses. The combo comes with a strawberry cake. You can couple the combo with a card containing heartfelt message and make your beloved's day, a truly memorable one.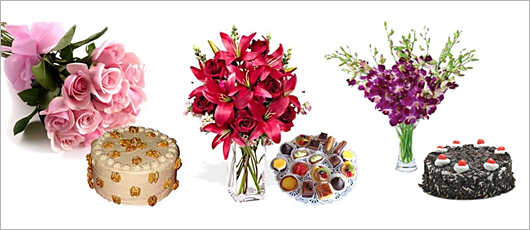 Orchid Magic Combo
If you want to be a bit more creative and unique you can never go wrong with orchids. While roses are the perfect symbols of love orchids show a lot of colour and represent life and vigour. Delight your loved ones with this beautiful orchid magic combo that consists of orchids placed in a beautiful glass vase and a ½ kg strawberry cake. Both items in the combo complement each other and the flowers look breath-taking. They constitute a perfect gift fit for anniversaries. If you are far away from your spouse, you can easily gift her this combo from the UK, with only a few clicks of your computer.

Unique Celebration
If you want to be different and add some uniqueness to your gifting experience, you can never go wrong with the unique celebration combo that is one of the most beautiful gifts your loved ones can ever receive irrespective of what the occasion is. It comes with a very tall basket laden with yellow and red roses lined up in four different segments and a delicious black forest cake. Black forest cakes are extremely popular throughout the world and the perfect blend of cherries, dark chocolate and vanilla whipped cream is going to leave a lasting impression on the taste buds of your loved ones. The gift is truly a delight for anyone who receives it.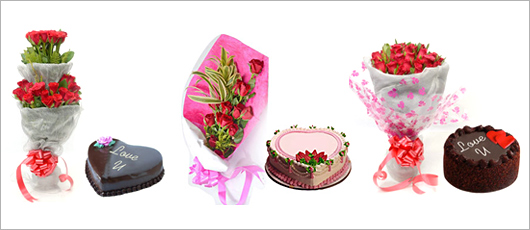 Pineapple Cake and Multi-coloured Roses
If you want to add a dash of colour and taste to any special occasion, you can go for the Pineapple Cake and Multi-coloured roses to splash the occasion with fun and frolic. The combo comes with 40 roses of varying colours and a delicious pineapple cake that is loaded with fresh cream and fruits.

As we said earlier, there is nothing better than sending cakes and flowers to India to grace special and joyous occasions in someone's life. Sending gifts to India from UK has become much easier through the efficient online delivery of GiftstoIndia24x7.com. You can send personalized gifts to India as well as send gifts to India same day delivery and bring a wide smile on the faces of your loved ones.