Delight Your Dear Ones by Sending Personalized Gifts to India from UK
Personalized gifts are perfect for making your loved ones realise what special place they hold in your heart. Personalized gifts can mean a lot to your near and dear ones who receive them because you can portray your love, care and thought through them. These gifts make them feel valued and special. When you plan to send birthday gifts to India from UK, you can easily think of sending various personal gifts coupled with chocolates and flowers. These gifts will definitely make the day of your loved ones.

If you want to send gifts to India from UK, personalized gifts will truly mean something because your loved ones will know that despite being in a far away country, you care for them and are thoughtful enough to personalize a gift on their special days. You can use GiftstoIndia24x7.com which is one of the best websites to send gifts to India. Here are some ideas for personalized gifts which are sure to brighten up the day of your loved ones.




Caricature gifts
Caricature gifts are fun filled and suited for any occasion. They are humorous and are sure to tickle the funny bones of your loved ones. They will never fail to put a smile across the faces of your loved ones and are always cherished by the receivers. Some great gifting ideas for caricature gifts are photo frames, clocks and mugs that would be loved by your near and dear ones. A good alternative is a funky personalized T-shirt with a large caricature of your loved one which they can flaunt in various social gatherings. They add to the character of the person and depict them as fun loving and light hearted.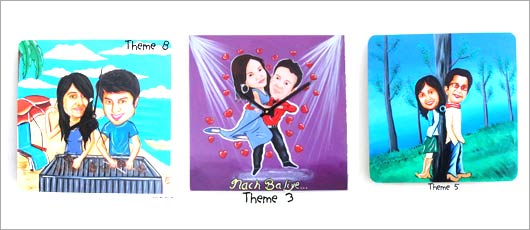 Kids Mugs
Kids Mugs are in demand and they are extremely attractive. Most kids have health drinks and kids mugs will be a perfect companion for them both in the mornings as well as in the evenings. They come with personalized pictures of cartoon characters or other cute pictures printed on them. Any kid receiving this kind of mug will surely fall in love with the mug because of the affectionate and personal touch.

Photo Gifts
Personalized photo gifts are extremely thoughtful and hold a lot of significance to anyone who receives them. You can team them up with other gifts to add to their delight. A personalized desk sheet calendar, personalized cushions, a personalized silver bottle, personalized photo puzzle or personalized pillows can be great gifts for sending to your near and dear ones. Your loved ones will cherish these gifts for the rest of their lives.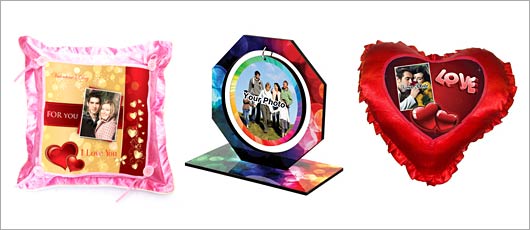 Photo Frames
If you want to send birthday gifts to India from UK for your loved ones, then there is nothing better than personalized photo frames. A single photograph of you and your loved ones can rekindle countless memories in your loved one's heart even though you are so far away in another country. If you are simply missing your loved ones, these gifts will bring you and your loved ones close again.

Tiles and Mirrors
Mirrors are something all ladies carry in their purses and a small mirror with a personalized photo and a touching message is a constant reminder of the bond you share with them. They make excellent gifts and can be paired with apparel, accessories and other personalized gifts.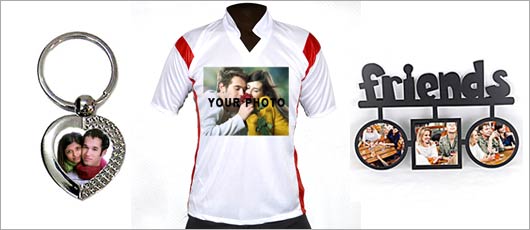 Photo Key chains
Key chains are carried by everyone and are always kept close to heart. A personalized photo keychain makes a great gift for your loved ones. They come in all shapes and sizes and each have their distinct look – be it a droplet or an embellished heart shaped keychain.

Photo Mugs
Gone are the days when photo mugs were dull and boring to look at. With the advent of personalized photo mugs people are constantly gifting them to their loved ones. GiftstoIndia24x7.com has brought mugs with cool effects like magic mugs and radium mugs. A magic mug highlights the picture only when you pour something hot into the mug while radium mugs glow in the dark. Apart from these mugs, you can also send mugs with various inner colors and colored rim or handles to your loved ones. These will be definitely cherished by the loved ones who receive them.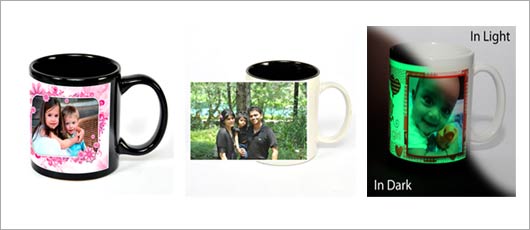 Photo T Shirt
A photo t shirt can be worn with pride by the person who receives one, showing off the love and affection that went behind its making. They come with personal messages and unique designs to add variety to an otherwise monotonous white palette. These can be gifted on all occasions and are very versatile in their use. Instead of being worn they can be used to deck up the private study or bedrooms as well.

Rock Photos
Rock photos are a quirky twist to the standard photo frames. Instead of displaying a photo in a standardized frame, the photos are placed on cut out pieces of rocks in funky shapes and sizes. They look extremely good and suit the interiors of the house. Alternatively, you can purchase a personalized rock wall hanging for your loved ones to display in their corridors.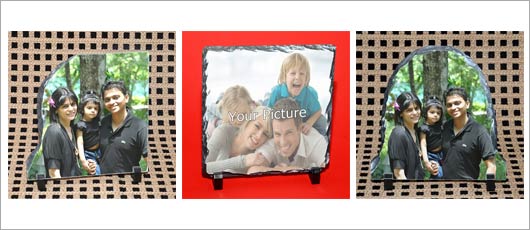 Gifting personalized gifts is a heartfelt way to show love and respect towards someone you care for and the personalized touch in these gifts mean a lot to them. However, you must always keep in mind that while planning to send gifts to India from UK you must always opt for GiftstoIndia24x7.com, one of the premier gifting websites to send gifts to India. So go ahead and express your love for your near and dear ones with personalized gifts today!