Surprise Your Sister with Amazing Gift Ideas on Bhai Dooj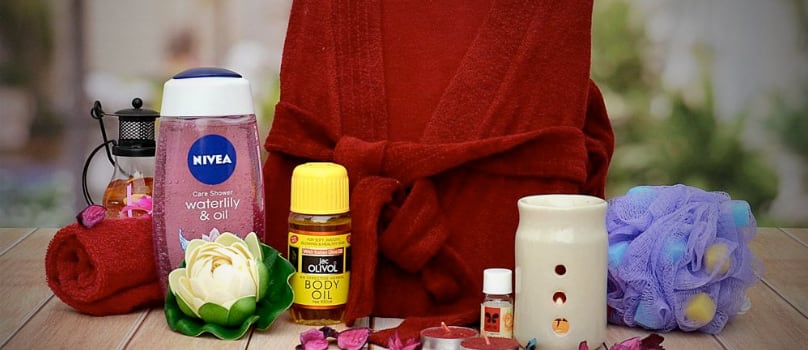 Indians consider the relation between a brother and a sister to be sacred. The fact that the relationship between the siblings is considered to be sacred by the Indians, is well established by the fact that the festivals like Raksha Bandhan and Bhai Dooj are celebrated with much gusto and fervor.
Just like Raksha Bandhan, Bhai Dooj also celebrates the sacred bond between the brothers and the sisters. It is a festival celebrated by mostly the Hindus of India and Nepal. In various parts of these two countries, this festival is known by varied names like Bhau Beej, Bhai Tika and Bhai Phota. Generally, this festival is celebrated on the last day of the five-day-long festival of Diwali. According to the Hindu Lunar Calendar, it coincides with the second day of Shukla Paksha of the month of Kartika.
On this day, sisters pray for a long and happy life for their brothers, and apply a tika on their forehead. This tika is made of sandalwood paste. Sometimes, roli and curd are also used to apply the tika. Generally the custom is for the sisters to present gifts to their brothers on this auspicious day. But then, the brothers never fail to surprise their dear sisters with awesome gifts on this special occasion.
Here are a few gift ideas that you can browse through when you plan to send online gifts to India for your dear sisters.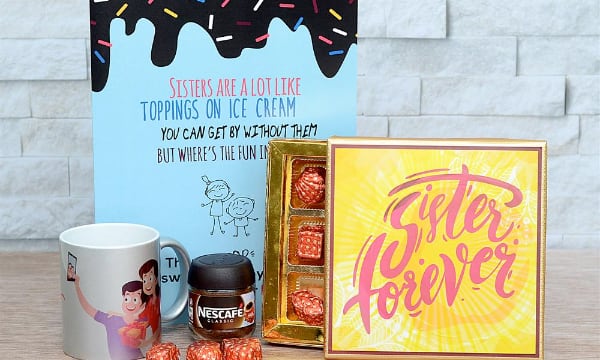 Sending gift hampers to your loved ones will certainly make them go crazy. You can sweep your lovely sisters off their feet by sending Bhai Dooj Gift Hampers to India for them. Sending these gifts to India online will definitely make them happy beyond description. While buying these gift hampers, you can either select those hampers that are on display at GiftstoIndia24x7.com, the premier online gifting portal or you can buy various gifts and prepare one gala hamper for your adorable sisters in India. To prepare these hampers, you can select from an amazing collection of dolls, soft toys, cosmetics, chocolates, books, sweets, dry fruits or flowers to elate your sisters.
Chocolates :
Chocolates have an universal appeal and are much loved and adored by almost everyone. On the occasion of Bhai Dooj, plan a pleasant surprise for your sisters, by sending them delicious and mouthwatering chocolate hampers to India. Sending a gift of chocolates to your sisters will make them jubilant on this special occasion. The best thing about these chocolate hampers is that these come in a wide array of designer thalis, boxes and beautiful trays. The array of various chocolates from different brands like Royal Dansk, Temptation, Ferrero Rocher, Bournville, Dairy Milk or Belgian will definitely make your sister's mouth water. You can also send them handmade chocolates that come in attractive packets. You can opt for the Exotic Temptation Hamper or the Amazing Nutties Hamper to delight your dear sisters.
Grooming Gifts :
Every woman wants to look beautiful and loves spending a considerable amount of time in grooming herself. This Bhai Dooj, you can give your darling sisters the opportunity to deck themselves up with amazing cosmetics. These would be much loved as Bhai Dooj return gifts, especially if your sisters are in their teens or have just taken their first few steps into adulthood. You can create a marvelous cosmetic hamper by selecting individual products from multiple brands like L'oreal, LOTUS, Olay, Ponds, Lakme or Garnier. You can also opt for cosmetic hampers from the individual brands too. The grooming hampers like Loreal Revitalift Day Night Combo or Pretty Lady Hamper will definitely enhance the beauty of your adorable sisters.
Accessories :
For the girls and the women, their look and get up is never completed without matching their apparels with proper accessories. Women are known to go ga-ga over accessories. You can help your sisters compliment their look by sending them beautiful accessories like bags and purses, jewelries and sophisticated watches. These accessories can also be sent to your sisters as birthday gifts to India, on their birthdays.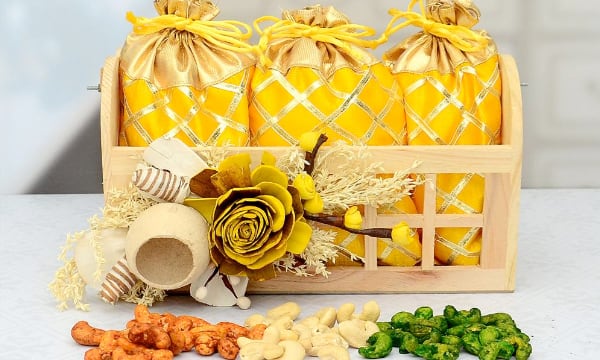 Sending gifts to your loved ones on joyous occasions is never complete without dry fruits. Festivals like Diwali and Bhai Dooj marks the advent of chilly winter in the otherwise hot Indian sub continent. Since dry fruits contain a healthy dose of proteins and essential minerals, it is considered to be a good gesture to gift a box or tray full of dry fruits to the loved ones. While selecting the dry fruits, you can either opt for only one kind of dry fruits or you can opt for a combination of various dry fruits. The popula choices include a mixed dry fruits platter consisting of cashews, almonds, raisins, pistachios, walnuts etc. The beautifully decorated trays, thalis and boxes, make these dry fruits look tempting, mouthwatering and delicious at the same time.
The discussion about Bhai Dooj Gift Ideas can never be complete without a detailed discussion on sweets. Indians believe that there should be a generous exchange of sweets among one another, in order to enhance the sweetness of their relations. Sweets like mawa kalam, kaju barfi, kaju gujia, motichur laddu, palak barfi, mawa bati and kaju roll are sure to bring water in the mouth of your beloved sisters. Normally, on the occasion of Bhai Dooj, it is the brothers who are treated to mouthwatering delicacies and sweetmeats. But then, you can also send these sweets to your sisters as return gifts on the occasion of Bhai Dooj.