Popular Gift Ideas for Bengali New Year
Bengali New Year or Poila Boishak or Noboborsho is the first day of the Bengali calendar celebrated on 14th April in Bangladesh and on 15th April in India and other countries by the Bengali Hindu community all over the world. This day is considered to be auspicious and all Bengali businesses - new and old are started or renewed on this day after morning puja. People buy new clothes, exchange gifts among loved ones, visit temples, cook and savour sumptuous meals and organize cultural shows to celebrate this day. So you must be wondering what gifts to send to your loved ones on this day. Let's discuss some Bengali New Year gift ideas.

Poila Boishak Mugs : These special Poila Boishak coffee mugs comes with Bengali New Year wishes and messages inscribed on them. Send these gifts to enliven the coffee drinking experience of your loved ones. The Heartfelt New Year Wishes mug is a beautifully designed apt Poila Boishak gift which will be treasured forever.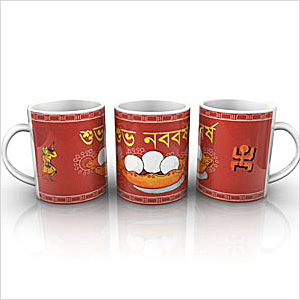 Sweets : Any Bengali festival or occasion without sweets is unimaginable. Bengali cuisine is synonymous with sweets. So sending them sweets on this day is an apt gift. Gift your loved ones in India with the Tasty Mixed Sweets Hamper which contains an assorted tray of tempting sweets of weight 1 kg. You will easily get it from this reliable and reputed online gifting portal.

Gift Vouchers : If you are unable to decide as to what gift to send, then send them gift vouchers of shopping outlets or food outlets. Bengalis love eating delicious food and thus gifting them with the Oh! Calcutta Dining Voucher worth Rs. 3000/- will make them go Bonkers! Oh! Calcutta specializes in bengali cuisine and a food trip down there will be worthwhile. You can also avail to various offers and discounts using the gifts to India coupon code for this exclusive online gifting shop.

Gift Hampers : Gift hampers are one of a kind gifts as these help you send an assortment of many gifts together. Flower delivery to India has been made easier through this reputed gifting website with same day delivery option. Send the Delicious Goodies Hamper to your loved ones. It contains Karachi cashew biscuit, fox blackcurrant, davidoff rich aroma, davidoff sommeliers masterpiece, stute diabetic peach jam, kraft cheddar cheese, twinings earl grey tea, clear mint drop fox candy, peach jam.

Home Decor : Bengali women love adorning their home with both spiritual and trendy things. But what they love doing best is preparing those lip smacking delicious foods. So gift the women in your life who love cooking the Passionate About Cooking kitchenware set which comes with apron, oven mittens, pot holder and kitchen napkins to aid them in the kitchen.

You can choose among these and many other gifts for bengali New Year from this reputed online shopping portal. You can also send anniversary gifts to India and gifts for other events and occasions.