Send Gifts to India on Baisakhi for your dear ones
One of the most happiest moments ever spent are the ones spent with family. Family is the best part of any person. Thanking one's family on the auspicious occasion of Baisakhi is considered a noble affair. The festival of Baisakhi is the time for a new beginning, a new start. If you are wondering when is Baisakhi in 2012 then please note that it is on 24th April. Gifts are a wonderful way to thank your dear ones for all the things they have done for you. Thus, send gifts to India on Baisakhi, and express your feelings of love and gratitude to your loved ones. But, if due to some reasons you cannot be with your loved ones on this festive season then you can take the assistance of an online gifting portal. GiftstoIndia24x7.com is a leading online gifting company that helps people from all around the world to send Baisakhi gifts across 500+ destinations around the country.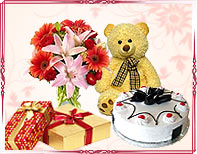 Making the festival of Baisakhi special for your loved ones is much more possible now with a range of exclusive gifts. Letting your loved ones know that we love, care and respect them is always a special feeling. The joy of having a family manifests itself in the form of gifts on special occasions. There are a wide range of gifts that can be sent to your loved ones on Baisakhi 2012. These gifts will surely make your Baisakhi festivities special and will make your loved ones miss you all the more. GiftstoIndia24x7.com has got a wide range of gifts which will prep-up the celebrations of your dear ones. The gifts range from the traditional gifts such as sweets, flowers, fruits and dry fruits to a whole range of Gift Hampers and Gift-Vouchers. The gifts have been neatly divided into categories of Men, Women, Kids and New Born. A widest range of gifts have been created under each section.

There are Cufflinks, Bracelets and a host of other items in the men's section which you can send as gifts to India. Cosmetics, Jewellery, Sarees, perfumes along with many other gifts are there in the women's section. Kid's section is full of toys, chocolates and a host of other items. GiftstoIndia24x7.com has also launched a host of gifts for new-born which will surely make your loved ones love you more. There are host of emotions which a person goes through when he/she receives a gift from you despite being so far away. With the advent of time, many people have to leave for the foreign shores owing to career-related commitments. In such circumstances, they live far apart from their loved ones for months on end. As a result, they miss out on important family occasions like birthdays, anniversaries and important festivals like Baisakhi.

The above mentioned items are some of the top gifts which you can send as gifts to India which will surely floor them. These gifts will surely make your loved ones miss you all the more and you will experience an instant connection with your loved ones, even being so far away. When you send a gift, you want to make it special and worth remembering all throughout the time. Hence, send gifts to India by employing our services and our 24x7 customer support who will guide you through the entire delivery status of your gift. Making your loved ones happy with just a click of a mouse, it's that simple to spread the cheers on Baisakhi.