Newest Collection of Gifts for Baisakhi
The online gifting company, GiftstoIndia24x7.com, has again something new to offer its global customers when Baisakhi is on the cards. Like every other occasions it has some exclusive plans to make this year's Baisakhi celebration special for all. So, it has recently launched its Baisakhi gifts collection which includes wide variety of gifting items which can be sent on this festive season. Anyone can send gifts from the wide range as Baisakhi gifts to India. It's main aim is to make the harvest festival more extravagant for those Indians who live abroad.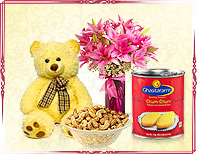 Baisakhi is a harvest festival of Punjab. It is also the new year day for the Punajbis. Gifts hold a special significance in the Baisakhi celebration. GiftstoIndia24x7.com offers huge collection of Baisakhi gifts like Baisakhi gift hampers, exclusive gift vouchers, dry fruits, sweets, flowers and cakes. Apart from these items, it also has different categorized gift sections like gifts for women, gifts for men, gifts for kids and gifts for infants which will surely help one to get the desired gift items easily.
CEO of the company, Mr. Amit Desai, said in this regard, "Baisakhi is the time to welcome the new year with all the friends and family members. It is also the time to shower gifts on our loved ones. The latest Baisakhi gifts collection is brought to you will sure to make the Baisakhi celebration of your near and dear ones memorable like never before." So, choose and send gifts to India on Baisakhi to all your loved ones through GiftstoIndia24x7.com and bridge the gap of distance and usher into a new beginning.