Send Apparel Gifts to your Dear Wife on Navratri
Navratri is a popular Hindu festival observed in India normally in the month of October and there are attractive apparel gifts that grace the Indian women observing the rituals related to this festival. The festivity is accompanied by rituals observed by Hindu women. An interesting feature of this festival is that it lasts for nine nights and hence it gets its name. It is truly a 9 day and night long gala event where beautifully dressed Indian women devote themselves to the worship of the deity Durga. Then the tenth day is observed as Dussehra or Vijaya Dashami and it marks the end of the festival. There are folklores associated with the festivity and it is said that this worship dates back to the Vedic age.

The Navratri gifts to India are many. They are provided in the web for the interested individuals to view. Choosing a gift for your wife on this occasion requires an understanding of her taste and preferences. If you are about to make a selection and you are unaware of the likings of your better half then we are always there to help you. In this context, gift items like Kurtis, Lehengas, Sarees and Salwars are immensely popular. These gift items along with other women's apparels are available online in our website.

Kurtis

The kurtis are very much popular among modern women as they provide a perfect blend of style and comfort to the wearer. A variety of kurtis are available in different styles, fabrics, cuts, sizes and designs. This online gift portal offers a collection of such items to potential customers. The customer needs to browse through the collection and make a selection of the dress. The Black Kurti and the Red Kurti are very suited for the modern woman as they look quite stylish as well as elegant.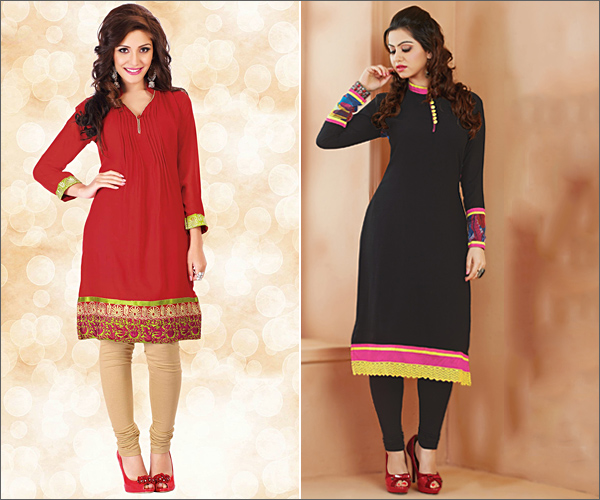 Lehengas

The Navratri gift ideas can include gifting a lehenga by a husband to his beloved wife. The lehengas are made from excellent dress materials. They are worn mostly during times of celebrations or occasions like the Navaratri. These items are categorized according to the designs, prices, sizes etc. in online commercial websites. The Pale Tomato Net Lehenga Choli and the Beige Net Lehenga Choli will be perfect to be worn during the festivities which have become synonymous with the celebration of Navratri.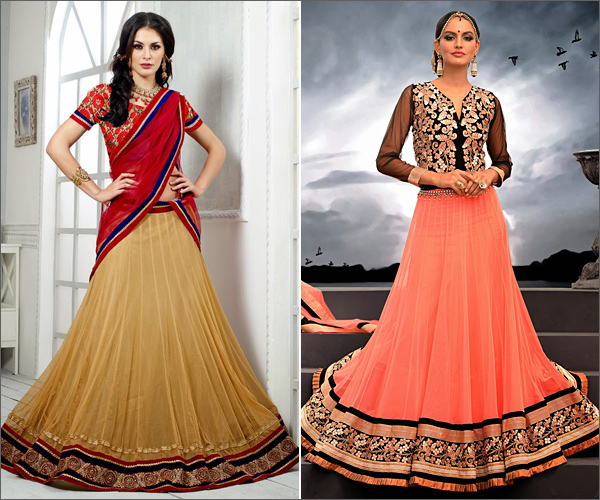 Sarees

In such occasions, the saree is also a preferred option among many men to give as gifts to their beloved. There are different types of this dress material and it depends on the mode of shopping. The customer can shop by fabric and choose silk, cotton, chiffon, crepe and many other types. They can shop by occasion and then designer, traditional, cocktail and business are the types. The Red Faux Georgette, Jacquard Embroidered Saree and the Brown & Red Faux Georgette, Satin Embroidered Saree have a regal charm to them and will look great to be worn to parties and other such occasions.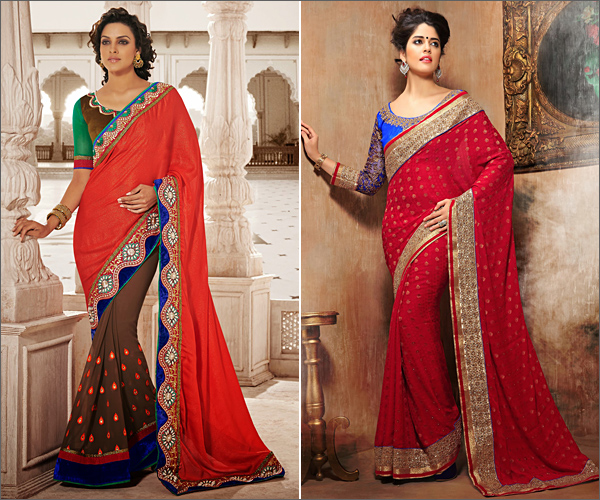 Salwar Kameez & Churidar Suits

If you are abroad and are desirous in sending anniversary gifts to India along with Navratri gifts then you can also consider the salwar kameez & churidar suit items as gifts. These are quite attractive and colourful items and enhance the beauty and glamour quotient of the wife. There are a variety of such items like cotton, embroidered, polyester, georgette, cotton printed anarkali suit and Patiala churidar suits that make beautiful women look even more attractive. The Deep Pink Viscose Georgette Salwar Kameez and the Cream & Saddle Brown Viscose Georgette Anarkali are perfectly suited to be worn to religious functions and family gatherings.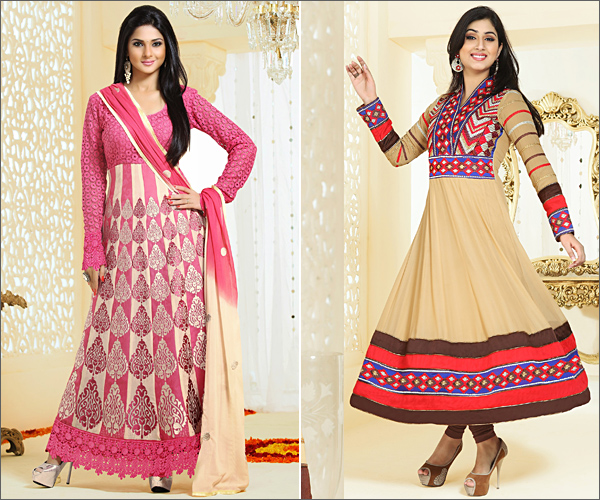 It may happen that you are relocated somewhere else in a different country which makes you stay far away from your partner on such occasions as Navratri and then you need the best site to send gifts to India. Sending gifts to India online is the most preferred option. Instead of going to the market and engaging in lengthy transactions, you are able to perform the transactions online from your comfort zone and there lies its speciality.