Top 5 home decor items for her on Bengali New Year
The Bengali New Year is just round the corner. And it goes without saying that the desire to decorate, celebrate and create a festive ambience in and around the house does surface in every lady's heart and mind. Of course it should. She is the lady of the house and the way every nook and corner looks, the way things are in order speaks about her and the taste she has for keeping her house the beautiful nest you both set out to build it. Help her with this Bengali New Year, one more time with making the house that it is by sending gifts to India. We will help you choose the top five home decor items which she will surely love.

Lamp Shades : Beautiful bright coloured lamp shades are sure to make your home bright and lighten up the festivities of the Bengali New Year. Choose bright red, orange, green or white coloured lamp shades for the perfect blend or contrast to the home decor you already have. Choose the Fluorescent Green Table Lamp which will look attractive in your home.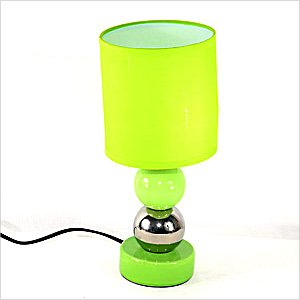 Wall hanging : Choose from a carefully collected wall hanging collection to match every taste and decor for the lady of the house. Wall hangings add that zest to the overall decor at your home and embellish the beautiful wall you have. The Spiritual Pan Ganesha Idol is a beautiful wall hanging made of gunmetal and intricately carved. Get this easily from this reputed and reliable online shopping portal.

Flower Vase : Flower vase can be a great home decor item to send on this auspicious Bengali New Year and help her decorate the house with that. The Glamorous Golden Vase is a beautiful vase made of bone china which makes for a wonderful gift. Make a flower delivery to India along with the vase to make for a perfect gifting set

Clock : Choose the quirky Gharwali Wall Clock to remind her of the funny and sweet role of Sridevi in English Vinglish. It will definitely make her smile and also remind her fro time to time how much you love her. You will get many other types of watches on this reliable online gifting portal.

Kitchen and Tableware : These are probably the smartest ways to gift. Every bengali woman loves to cook and keep her kitchen spick and span! So by sending her kitchenware essentials you can help her in doing just that. For The Love Of Kitchen kitchenware set is a combination of an apron, a pair of oven mittens, pot holder and kitchen napkins.

Send gifts to India on the Bengali New Year and make your loved ones feel special. The top home décor item suggestions should help you decide what you are sending to your special ones.. Also with the gifts to India coupon code code, avail to various offers and combos available on this reliable gifting website.