Relevance
Popularity
High Price
Low Price
New
View
Chat
Send Gift Vouchers to India for Him
Surprise your loved ones in India by presenting exclusive Gift Vouchers offered at GiftstoIndia24x7.com. Exclusive Gift Vouchers are available from Shoppers Stop, The Taj Hotel, Reebok, Adidas, John Players, Wills Lifestyle, Big Bazaar, Pantaloons, Domino's Pizza, Cafe Coffee Day, Gili Jewel Accessories, Titan Watches and Baskin Robbins. Let your man in India shop at him own wish. Men in India can buy items or services of their choice.
These vouchers can make exclusive gifts to India for men. Send alluring vouchers as gifts to India and convey your precious feelings to your near and dear ones, specially men.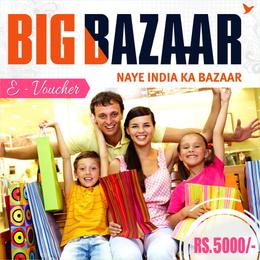 Love to use Giftstoindia24x7 since a few years and have always enjoyed their consistently great service. As a long time client we can recommend them to anyone without any hesitation. 2 thumbs up. And keep up the good work and stay safe!

Life is boring without celebrations. These give us some fresh oxygen in the middle of the daily rat-race that we go through. Indians are characterised by their friendly nature and they possess a capacity to make everyone close. Living in a country like India the people here are tolerant about other religions. Festivals round the year are thus a part of Indian culture. So there is no dearth of fun and frolic here. Indians have more or less knowledge about many religions as India is inhabited by people of different religions.Festivals are marked with the exchange of gifts to celebrate the zeal and enthusiasm brought along with it
Chat