When is Teachers' Day in 2013?
Teachers' Day 2013, 5th September, 2013
Teachers' Day calender 2013
| | | | | | | |
| --- | --- | --- | --- | --- | --- | --- |
| Sun | Mon | Tue | Wed | Thu | Fri | Sat |
| 1 | 2 | 3 | 4 | 5 | 6 | 7 |
| 8 | 9 | 10 | 11 | 12 | 13 | 14 |
| 15 | 16 | 17 | 18 | 19 | 20 | 21 |
| 22 | 23 | 24 | 25 | 26 | 27 | 28 |
| 29 | 30 | | | | | |
Teachers are the significant part of everyones life and society. Hence to honor them in a special way, Teachers Day is celebrated all over the world. In India, Teachers' Day is observed as a mark of tribute to the contribution of the teachers to the society. In the commemoration of the birthday of Dr. Sarvepalli Radhakrishnan, who believed in spread of education, a reputed diplomat, a great scholar, President of India and most importantly, a teacher. After he became the President of India in 1962, his birthday start to commemorate as Teachers' Day. It is observed in almost all countries, though on different dates.

On the special occasion of Teachers' Day, students perform on various cultural programmes and present gifts to their teachers to show respect and love towards their teachers. Schools are decorated with colorful papers, balloons and flowers to make the teachers feel very very special. Apart from these, distributing sweets and playing games have traditionally been part of Teacher's Day program for a long time now. Teachers also share their thoughts and convey special messages towards their loving students. Grand feasting heightens the charm of this this celebration.

When is Teachers' Day in 2013?

In India Teachers' Day is observed on 5th September.

Popular Gifts for Teachers' Day

No matter what the occasion or festival is, gifts play indispensable role to make any event momentous. Hence apart from all other activities, presenting gifts also will make your dear teacher feel special. And if you are residing somewhere in off shore, you can send gifts to India through some online gifting portals to make this Teachers' Day memorable.

GiftstoIndia24x7.com, one of the most proficient gifting portal has been one of the most sought after portal amongst all. Its proficient delivery and efficient customer support team have made the portal stand out from the crowd. Send gifts through this portal, your gifts to India will reach the recipient on time.

Since the occasion of Teachers' Day is just about to come, GiftstoIndia24x7.com has come up with a wide collection of gifts. One will definitely be overwhelmed to see its stunning collections of gifts. Browse through the Teachers' Day Gifts section, to check the articles arranged herein.

Following are some of the items, you can send Teachers Day Gifts and make the occasion even more special -

1. Flowers For Teachers - Flowers are one of the most preferred gifts that brightens one's mood and ambiance of the event as well. Moreover one may have lack of space to keep those home decors and so on. Hence, flowers would be the perfect option to delight your teach this Teachers' Day. A basket of red roses, lilies or carnations would make this day even more charming. Not only flowers, you can also accompany other items to add color to your gift. Apart from flower baskets, bouquets and life size arrangements also would welcomed by the recipient as gift. All these flower arrangements are decorated with fillers, ribbons, nets and so on.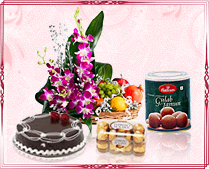 2. Sweets For Teachers - Sweets definitely play a significant part to make any occasion special. Hence you can make your choice from this sweets section and send across as gifts. In this section you will find, sweets such as mewa peda, kesaria peda, kaju pista roll, kaju barfi, soan papri and so on. All these sweets are arranged in beautifully decorated handmade trays. Your dear teacher would definitely love to relish these sweets, since all are arranged from reputed stores. To make these sweet hampers even more delightful, crunchy dry fruits and chocolate bar also added.

3. Gifts For Sir - Not only the site has segregated its gifts under different sections according to products but also according to gender, such as Sir and Mam. In the Gifts for Sir section, you will get to see a great collection of items ranging from watches to accessories and perfumes to apparels. It goes without saying that watches make a great gift option, no matter what the occasion is. Hence on this upcoming occasion, send a branded watch as per your dear teacher's taste and preference. Watches from Titan, Sonata, Timex in a great variety of models such as traditional to trendy to funky, all you will find herein this section. Apparels also would be a wonderful gift for your teacher. Formal and semi-formals are arranged from various reputed brands such as Louis Philippe, Allen Solly, John Miller, and many more to name a few. You will never go wrong with accessories as gifts. From portfolio bags to backpacks to pen to home decors are available in this section.

4. Gifts For Mam - When you are opting gifts for your mam, options are many. Hence you will have a great time shopping at GiftstoIndia24x7.com. In this section, the portal has arranged a great range of items such as jewellery, perfumes, watches, sarees, salwar suits and many more. Opting for gift hamper would also make the day colorful. Since hampers are assortment of many items together, you will have chance to pick as per the taste and mood of the event. Cake and flower combo is perhaps the best gift on any occasion, hence you can go away with the hamper consists of these two. By opting hamper with a gift voucher is a good idea to provide her a chance to shop for her own. Various edibles such as cookies, chocolates, sweets and dry fruits are also assorted in the hampers. Hence send these hampers and bring smile on your dear mam's face.

Sending gifts to India through GiftstoIndia24x7.com would be a wonderful experience. Moreover you gifts will reach the recipient on time and in perfect condition.