When is Mother's Day UK in 2016 : The Ceremony Of Mothering Sunday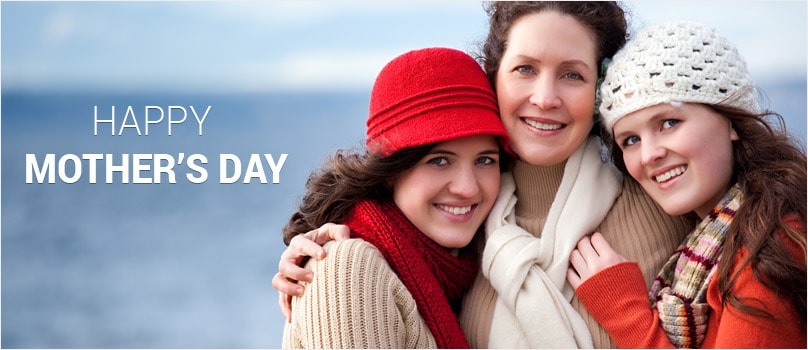 The United Kingdom celebrates Mother's Day on a different day than the rest of the world. The celebrations here are wrought with religious and historical significance. It is celebrated on the fourth Sunday of the Lent festival. This day is also known as Mothering Sunday throughout the country. Mothering Sunday has its roots in Britain's glorious past where all domestic helps were given a leave on this day to visit their mother church or the church where they were baptised. This gave them a chance to reunite with their mother and also the rest of their family members. Though originally a Christian festival, this day has now gained a more secular outlook with the whole country, irrespective of religion and class, celebrating this day. If you are wondering when is Mother's Day UK in 2016, then we would like to tell you that it is on the 6th of March.
Mother's Day UK Celebrations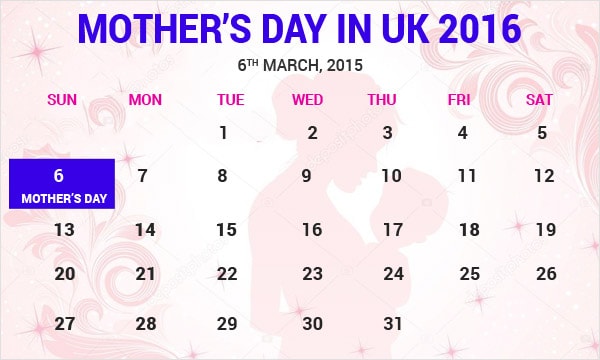 Mother's Day or Mothering Sunday was originally a day of celebration for the domestic help in the then England. It falls during the Lent festival which is a 40 days fasting period followed by the celebrations of Easter. The rigorous restrictions of Lent were uplifted only during the Mothering Sunday which is a joyous occasion of celebrating one's return to their mother church. This day also celebrates the reunion of families who remain apart throughout the year due to different job locations. Thus, this is the day when the mother got to be close to all her children. They brought gifts for her and spent the whole day with her. This led to an indirect celebration of Mother's Day on Mothering Sunday. With the passage of time, these two celebrations merged and turned into the occasion of Mother's Day. This day is celebrated with a lot of pomp and show by all the people of this country.

Mother's Day UK celebrations are carried out with a lot of fun, frolic and excitement. But this day still has a religious angle to it due to its origin. Simnel cakes and mothering buns are made in honour of this day. Simnel cakes are light fruit cakes whereas mothering buns are bread buns rich in flavour. This day celebrates not only the mothers but also all other mother figures in a person's life like aunts, grandmothers and mothers-in-law. Children make greetings cards for their mothers and grandmothers and spend the day by helping them out in their daily chores. Mothers are treated to lunches, brunches and dinners with restaurants remaining booked from months ahead. They also receive lavish gifts and beautiful cards from their sons and daughters.

If you are living in UK, you too might want to send gifts to India on Mother's Day UK. There is a wide selection of Mother's Day gifts to India on our website for you to choose from. These gifts are perfect to be sent as gifts to India and will be loved by your dear mother who is away from you on this special day.
Mother's Day UK Gift Ideas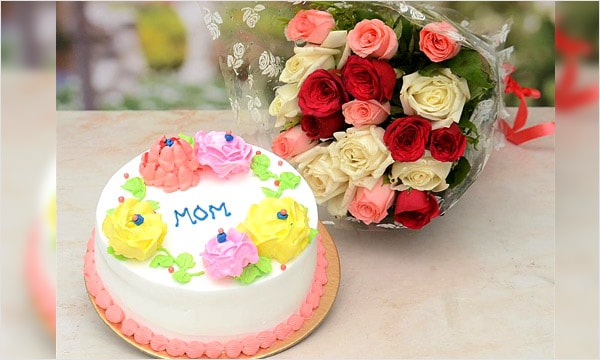 Flowers to India on Mothers day is a good gift as they are loved by mothers. They are bright and attractive due to their varied colours and pretty shapes. The fragrance of a flower is what makes them a must have for any celebration. You can choose from a number of flowers like roses, gerberas, carnations and orchids that are easily available from our website. There are also combos and beautiful arrangements for your lovely mother in India. A celebration of Mother's Day remains incomplete without cakes to India on mothers day. Your mother will definitely love the delectable samples that are available here on our online gifting portal. These cakes come in delicious flavours like chocolate, vanilla, strawberry, pineapple and butterscotch. There are also sumptuous options like black forest and truffle cakes. The attractive shapes of these yummy cakes also adds a point in their favour.
Gifting chocolates to India on mothers day is also an interesting idea. There is a wide variety of chocolates available on this website. You will get delectable chocolates and cookies, chocolate hampers with lots of other gifts as well as yummy handmade chocolates that you can gift to your foodie mother on this day. Jewellery is loved by women of all ages and personalities. Therefore, a gift of jewellery on Mother's Day will surprise your mother a lot. You get to choose from diamond, gold, pearl and fashion jewellery that you can select online from our online gifting portal. There are stunning necklaces, earrings, pendants, rings, chains, bangles and bracelets that your dear mother will cherish for the rest of her life. You can also gift from our Mother's Day Special collection.
Beautiful apparels will make an apt gift for Mother's Day. Luscious lehengas, salwars and sarees are available on our website that you will just love. You can choose the Mesmerizing Brown & Green Super Net Printed Saree for your mother who is away from you. This beautiful super net saree is brown in colour with patterns of light green and deep blue. The overall colour combination is stunning and gives this apparel a very sober look. This saree will be perfect for your mother as it very pretty and also easily manageable. There are also many other items for you to choose from.
Make this Mother's Day UK special for your mom in India. Send these and many other lavish gifts to her and other mother figures in your life who are important to you. The items available on our website will be loved and admired by all.