Joyous celebration of Mother's Day in UK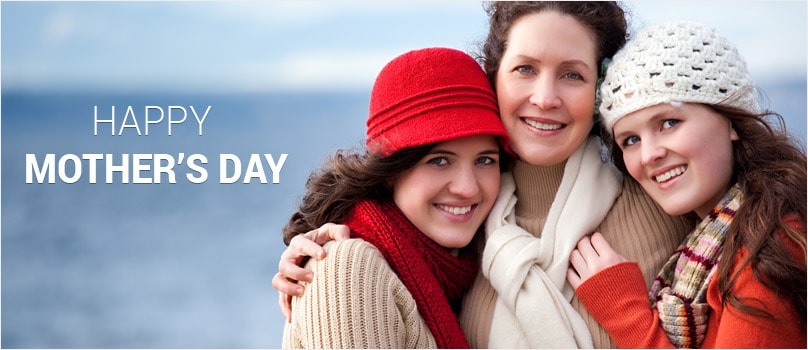 Somewhere behind the cards and flowers, embedded is the historical account of the Christian tradition of commemorating Mother's Day or Mothering Sunday. The event, Mothering Sunday started off as a day meant to celebrate motherhood in UK. Set on the fourth Sunday of Lent, initially it was conceived to pay respect to Mother Mary. However, now, down the years, it has been recognized as a day of saluting all mothers for their insurmountable selflessness and inexplicable, unconditional love.

Children pay tribute to their mothers on this very day, observed as Mothering Sunday or Mother's Day in UK. Mothering Sunday is an equivalent to Mother's day that is celebrated on different dates in different countries. For instance, it is also observed in US in a similar fashion but the date differs from that of UK's. It is best to be not confused with the term Mother's day, in general. In America, Mother's day is observed and celebrated on the second Sunday of May month as declared by President Woodrow Wilson in 1914. On the other hand, Mother's Day in UK is observed and celebrated in the middle Sunday in Lent that lasts from Ash Wednesday to the day before Easter Sunday. This year Mother's Day will be celebrated on 15th March, Sunday.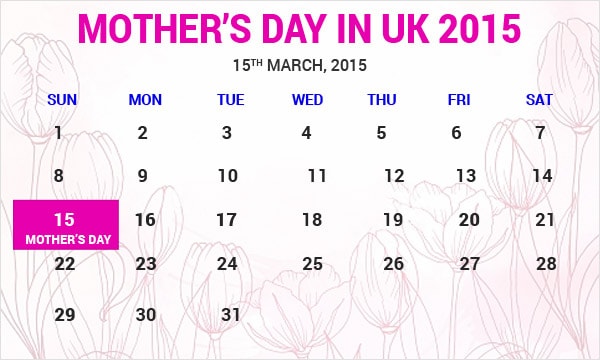 Historical Account of Mothering Sunday in UK
Since17th century, Mother's Day is celebrated in a unique and traditional way in UK. It is believed that the UK tradition of Mothering Sunday comes from the fact that people used to return to their 'home', that is the 'mother' church once a year to attend a service on Laetare Sunday. This occasion gave the families an opportunity to reunite with the ones who had been working by staying away from the family. Thereby this ushered a day-off to the sons and daughters to pay a visit to their mothers. It would be termed as 'a-mothering'. They observed the reunion by bringing flowers and cakes for their mothers.
However, there is another probable theory behind this which refers to motherhood differently. Bible readings for that day says, 'Jerusalem, which is above is free, which is the mother of us all'. It implies the Galatian communities relationship as Christians to the Jewish laws.
The history of Mothering Sunday is centuries old in UK. There is very little known about the origin of the name "Mothering Sunday". It is estimated to have been adopted from the Roman Spring festival celebrating Cybele, their mother goddess. On the other hand, it is also known as the Refreshment Sunday because the rules of fasting for Lent stand adjourned on this day. Other alternative names for Laetare Sunday are Pudding Pie Sunday, Simnel Sunday, Mid-Lent Sunday, as well as Rose Sunday.
People give presents, cards, bouquets expressing their love and gratitude to their mothers besides baking special simnel cakes on this day. Food forms an integral part of this occasion since Old and New Testament. Delicious food can make the celebration more grand while reminding of the incident how Jesus fed five thousand people with just five small barley loaves and two fish.
Simnel cake is the most popular item that is baked specially on this particular calendar day. Children wake up early in the morning to prepare this special cake for their mothers. This special fruit cake is decorated with 11 marzipan balls representing 12 apostles except Judas. Many families prefer to keep it classic by celebrating this day with traditional parties and events while some have modernized its celebration by taking mothers out for dinners or lunch or shopping. Children spend the whole day with various gift ideas to delight mom in India on this special day.
Gift Ideas for Mother's Day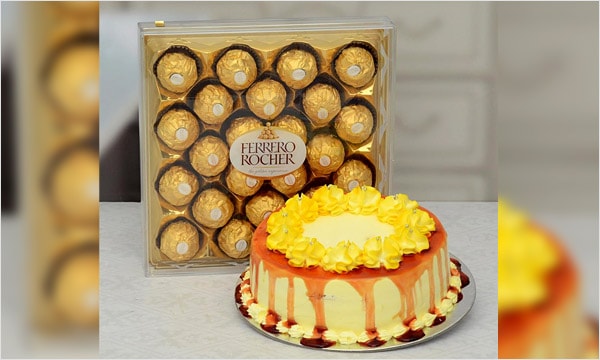 With the progress of globalization in every genre, it is time that there is some variety introduced while giving presents on any occasion. Nothing can be more endearing than planning that perfect gift for one's mother to feel proud of. One can either bake or buy delicious and yummy cakes for mother in India written Happy Mother's Day to make the celebration more grand.
Beautiful flowers to India on Mothers day and chocolates can also make your mother feel special. You can also surprise your mother with photo mugs and apparel. Gifting jewellery, or watches or items of utility like kitchen appliances and home decor can make your mother smile and happy.
You can also send exclusive gifts according to the personality of your mother - Homemaker Indian Mom, Working Mom in India, Fashionista Mom in India, Foodie Mom in India and Spiritual Mom in India. This amazing selection of gifts would perfectly suit the personality of your mom. These thoughtful gift ideas will definitely delight your mom on this Mother's day.
Nowadays with the online ordering facility at one's beck and call, one can browse through myriad options to come up with the best possible type of gift to impress one's moms. Pamper your mother by sending her amazing gifts to India. Show gratitude and respect for your mother even if you are miles away from her by sending her exclusive online gifts to India from UK.