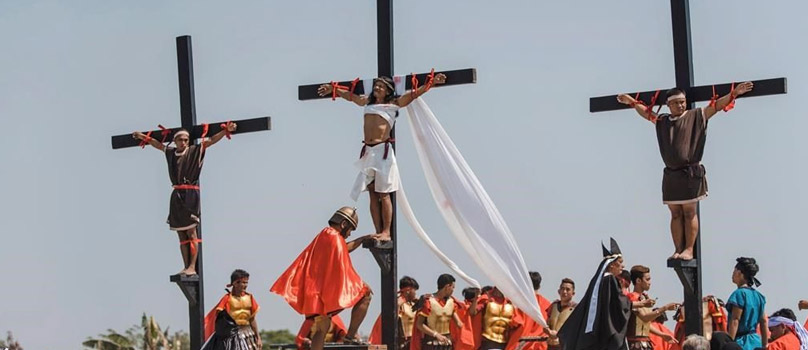 Image Credit : 660citynews
Good Friday is a religious holiday observed annually before the easter Sunday. It commemorates the crucifixion of Jesus Christ, the central figure of Christianity. A national holiday in most of the countries, the day is remembered with penance, sorrow and offering reverence to the supreme savior. It is not observed on any particular date rather it follows the Jewish observance of Passover. It is believed that on this day Jesus had his last supper with his disciples before his crucifixion.

In the year 2015, Good Friday will be celebrated on 3rd April. Accordingly, it is followed by Easter on 5th April, Sunday.
According to the holy book of Gospels, Jesus was captured in the garden of Gethsemane. He was betrayed by his own disciple, Judas who informed the temple guards about him. Jesus was brought in front of the high priest who convicted him of blasphemy. In the next morning, he was produced in front of the Roman Governor Pontius Pilate. Learning that Jesus is from Galilee, Pilate referred him to the ruler of Galilee, King Herod. Both the leaders did not found Jesus guilty, but upon the intimidation from the priests and fearing a nation wide riot, they awarded death sentence to him. Jesus was crucified along with two other criminals in a hill named Calvary. After six hours of brutal agony, Jesus died.

The occasion of Good Friday remembers this tragic and sad incident. The day is considered to be sacred which is observed with sincere veneration. On this day, people belonging to the christian faith fast for the whole day or take only one meal throughout the day. In every church candles, crosses and cloth and removed from the altar and no celebration takes place. Even the traditional church bell is not rung as a sign of reparation. Special prayers are held throughout the day especially in the evening. Preparations for the upcoming Easter also starts which celebrates the resurrection of Jesus Christ.

As Good Friday is associated with fasting and abstention, you can send a basket of nutritious fruits to your dear ones residing in India. GiftstoIndia24x7.com has brought a wide array of seasonal fruits arranged in baskets. Some of the baskets also contain packs of fresh fruit juices which complements their magnificence. These healthy fruits will provide the necessary nutrients to the body. You can also send a hamper of dry fruits assorted in designer boxes and baskets with a bouquet of fresh flowers. These flowers resemble the emotions of the heart which can be offered to God on this reverent day.

Good Friday is the auspicious occasion which not only commemorates the crucifixion of Jesus Christ but it also provides us the opportunity to solemnize the efforts and the sacrifices made by the Sun of God. Greet your dear ones on this esteemed occasion and send heartwarming gifts to convey your warm warmth and affection.