When is Good Friday in 2012?
Good Friday 2012, 6th April , 2012
Good Friday calender 2012
| | | | | | | |
| --- | --- | --- | --- | --- | --- | --- |
| Sun | Mon | Tue | Wed | Thu | Fri | Sat |
| 1 | 2 | 3 | 4 | 5 | 6 | 7 |
| 8 | 9 | 10 | 11 | 12 | 13 | 14 |
| 15 | 16 | 17 | 18 | 19 | 20 | 21 |
| 22 | 23 | 24 | 25 | 26 | 27 | 28 |
| 29 | 30 | 25 | 26 | 27 | 28 | |
Festivals form a core essence of Indian culture and tradition. Good Friday is a religious holiday observed by Christians all over the world. This day is indeed considered as a red-letter day, that marks the crucifixion of Lord Jesus Christ leading to his death in the Calvary or Golgotha. Mostly observed on Friday, before the Easter Sunday, this day is very significant for its melancholic connotation. Now if you are wondering as to when is Good Friday in 2012, note that it is on 6th April.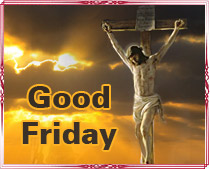 According to the mythological account in the Gospels, it is believed that the temple guards led by Jesus' disciple Judas Iscariot, betrayed Jesus in the Garden of Gethsemane by arresting him. He was brought to the house of Annas, the father-in-law of high priest, Caiaphas by the captivators who inflicted him rigorous session of interrogations. The meeting that led to a conflicting testimony against Jesus is brought forth by many witnesses, to which Jesus answered nothing. However, the outrage resulted when the high priest ordered Jesus to respond under solemn oath, saying "I adjure you, by the Living God, to tell us, are you the Anointed One, the Son of God?" Jesus testified its answer in the affirmative sense, "You have said it, and in time you will see the Son of Man seated at the right hand of the Almighty, coming on the clouds of Heaven." This resulted the high priest to condemn him of blasphemy. This incident, made the people to produce him to the Roman governor Pontius Pilate under the charges of perverting the minds of the nationals and so on. On knowing that Jesus was from Galilee, Pilate proceeded the case to King Herod, the ruler of Galilee. Although, both Pilate and Herod found no basis for sentencing Jesus, they were forced to sentence him death penalty upon the insistence of the chief priest.
Good Friday though a sad day, is a sacred occasion by any standards. As the day marks the crucifixion of Jesus Christ, the central figure of Christianity, people across the world shower undying respect and reverence to him on this special day by offering prayers. Crosses, candlesticks and altar cloths are removed on this day from the altar leaving it completely bare. Popularly called 'the day of fasting', the Catholic church considers this day a fasting day when Christians are allowed to gorge on only one single full meal. However, they are allowed to savor smaller meals at intervals that mostly comprises of fruits and two collations. Traditionally, no bells are rung on Good Friday or Holy Saturday until the Easter Vigil or the first official celebration of the Resurrection of Jesus.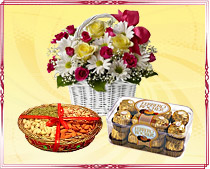 As sending gifts is an unique part of festivities in India, people send gifts to India to their loved ones. Among numerous online portals, GiftstoIndia24x7.com is quite evident. This e-gifting site allows NRIs (Non-Resident Indians) from across the world to send various types of gifts. Thus this Good Friday can be made special by sending fresh aromatic flowers as gifts. As flowers are the most expressive of all gifts they are widely opted for such occasions. In addition to that, one can also send fresh, juicy fruits through the site. Basketful of fruits will surely act as appropriate gifts that will assist one to break the Good Friday fasting.
As Good Friday is a religious day and calls for less celebration and more of remorse, it is best observed as a low-key affair. However, if one feels like earmarking Good Friday 2012 by doing something unique, he/she can send gifts to India in the form of sweets or dry-fruits.
Thus, make people aware of the pangs afflicted to Jesus on Good Friday by sending gifts through this site that has been operating in the market since over a decade.