When is Bengali New Year in 2014?

Bengali New Year 2014, 14th April, 2014
Bengali New Year calendar 2014
| | | | | | | |
| --- | --- | --- | --- | --- | --- | --- |
| Sun | Mon | Tue | Wed | Thu | Fri | Sat |
| | | 1 | 2 | 3 | 4 | 5 |
| 6 | 7 | 8 | 9 | 10 | 11 | 12 |
| 13 | 14 | 15 | 16 | 17 | 18 | 19 |
| 20 | 21 | 22 | 23 | 24 | 25 | 26 |
| 27 | 28 | 29 | 30 | | | |
Bengali New Year popularly known as "Poila Boishakh" or "Nobo Borsho" is a festival of the Bengalis which usually falls on mid April every year. This marks the opening day of Boishakh, the first month of Bengali Calendar. Predominantly, this festival is celebrated in Bangladesh and in the Indian state of West Bengal. Bengali communities in other Indian states, including Assam, Tripura, Jharkhand and Orissa also gets involved into this joyful festival.
In Bengali, "Poila" stands for 'first' and "Boishakh" is first month of the Bengali calendar. Bengali New Year is referred to in Bengali as "New Year" or "First of Boishakh" - "Nobo" means 'new' and "Borsho" means 'year'.
The traditional greeting for Bengali New Year is "Shubho Noboborsho". This year the cheerful festival of Poila Boishakh is coming on 14th of April.
Celebrations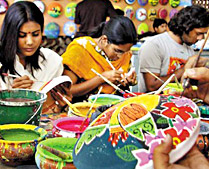 Bengali New Year is the ideal time to socialize for all Bengalis. People worship Goddess Lakshmi - the Hindu mythological Goddess of Wealth and Ganesha to pray for prosperity and well being on this auspicious occasion. Joyful and culturally rich Bengalis celebrate Nobo Borsho by dutifully performing set customs and traditions. Nobo Borsho celebrations are marked with joy, enthusiasm and hope. People wear new dresses and exchange sweets and pleasantries among friends and acquaintances. Early in the morning of Nobo Borsho, Bengalis used to take out processions known as Prabhat Pheris, where women clad in white sari with red border giving a very conventional look. Though such traditions are getting obliterated, the Institute of Fine Arts of Dhaka University still now brings out Mangal Shobhayatra, a colorful procession, to celebrate Poila Baishakh. This evokes the sense of traditional feeling among the Bengalis. This is also a special occasion for all the traders and shopkeepers as it is their "Hal-Khata" time, when they open new ledger.
Popular Gift Ideas
Poila Boishakh is the time when you can delight your loved ones in India with some wonderful pleasant gifts. Gifts bring smile and make people happy. Gifts are presented in every occasion to make people feel special and merry. Bengali New Year is one such moment when we exchange gifts among each other. One can get various options to gift accordingly to this festival.
1. Bengali New Year Cards / Calendars - Bengali New Year is greeted by wishing Subho Noboborsho to all our friends and acquaintances. Cards express your feeling. And the speciality with these Bengali New Year's card is the language. The bengali fonts used in the cards of these occasion make the difference. A Bengali Calendar is really a hard thing to find these days. So, such a calendar can be of great use for all the Bengalis you know. So, this could be a wonderful set of gifts from you to your adorable ones.
2. Poila Baisakh Mugs - Mugs as gifts are highly in fashion these days. A wide range of Poila Boishakh Mugs can be easily availed. This can help you to fabricate a new way of greeting Subho Noboborsho with the messages inscribed on the coffee mugs. Such mugs coupled with some flowers and sweets can weave a good gift package for your loved ones.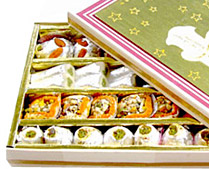 3. Sweets - Sweets symbolises happiness, blessing, fertility and prosperity. Every happy occasion needs sweets to deliver its flavor among all. Poila Baishakh is one such favourable time. Sweets are a must for this festival. Immense varieties of Sweets are there from which you can select to gift your dear ones. Sweets can be accompanied by some flowers or greetings.
4. Chocolates - The rarity and richness of Chocolates have enabled it to secure a special status in history. Chocolate has been linked to power, religion, love and romance. Any festive occasion can be jumbled up with chocolates so as Bengali New Year. Most of the people love having chocolates so this can be a supreme gift for the ones you love. Moreover the therapeutic properties of Chocolates is an additional feature which makes it an ideal gift for the elders too. Giftstoindia24x7.com has a prodigious collection of tasty Chocolates for your loved ones. This can help you to select a perfect set of chocolates for your close ones.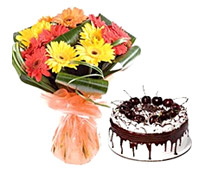 5. Flowers and Cakes - Flowers speak a lot. All flowers carry some meaning as they are meant for true love, friendship, gratitude and goodbye. In this favourable occasion of Poila Baishakh flowers are the best gift for someone you feel special. A bunch of pretty Flowers accompanied by a delicious Cake make a wonderful gift for this instance.
6. Apparel - Wearing new dresses in Nobo Borsho is like a paramountly important thing for all the Bengalis. So, a new apparel as a gift in this occasion has always marked the best for all the Bengalis. This year you can easily go for it through the huge range of Apparels at Giftstoindia24x7.com which has two divisions for it- one For Her and the other For Him. So, this Baishakh give your loved one something they will love to own.
7. Home Decor Items - Poila Baisakh is a time when everyone cleans and decorates their home giving them a fresh look. This purpose can be best solved through Home Decor Items. Thus gifting such piece of art can be wonderful for all the Bengalis who love to embellish their home. Moreover home decor items like Lakshmi or Ganesh Idols, Mangal Ghat frames etc are very favourable for this occasion as well.
8. Gift Hamper - This is a fascinating idea of gifting someone special with something which might amuse her. Gift Hampers will help you to select a wide range of items for your endearing ones. So, start thinking smart and select the ideal gift hamper instead of hopping around various sites to select the appropriate gift items you want to gift. So, this year bring a magical smile onto her/his face through a wonderful set of Gift Hamper.
Greet everyone "Subho Noboborsho" with a happy mood this year. And start selecting the proper gift for the special persons in your life. Make their Nobo Borsho charming, elegant and delightful by the sweet token of love and care you are sending them.