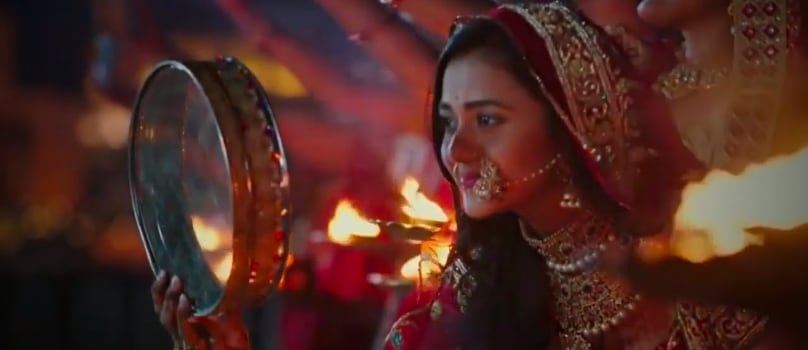 What is Karwa Chauth?
Karwa Chauth is one of the most popular one-day festival celebrated by Hindu women in North India, Gujarat and parts of Pakistan. On this auspicious occasion, married women keep fast from sunrise to moonrise and pray for their husband's long life and prosperity.

As the name signifies, Karva means a clay pot and chauth corresponds to the fourth day after the full moon. This festival is observed on the the fourth day after the Full Moon in Kartik month of Hindu calendar.

Karwa Chauth is also a social function when people gather and meet with friends and relatives, exchange gifts and share home-cooked food and sweets.
The Customs
Women apply mehendi on hands and legs in the morning. In the evening before breaking the fast, women dress up in Indian traditional clothes, usually a red or pink sari, lehenga choli or salwar kameez embroidered with zaris or sequins. Whereas new brides often wear their bridal costume. All deck up in jewelry and decorative bindis on the forehead. Women from the neighbourhood gather and narrate mythological stories about the significance of the Karwa Chauth.
Married women buy new karvas, the round shaped clay pots and design them with various colors. Inside the pots they put bangles, ribbons, sweets, chunri, bindis, mehndi, sindoor etc. They visit their neighbour's or relative's houses and exchange these karwas. On this grand festival parents send gifts to their married daughters.
Karwa Chauth Celebrations
The way of celebrating Karwa Chauth varies from region to region -

Punjab - The festival of Karwa Chauth has great importance amongst the Punjabi women. Seeing the importance and celebration of this festival, the markets get flooded with apparel, decoratives, sweets and accessories ranging from bangles to mehendis to bindis. Artists from various cities such as Agra, Jaipur, Delhi, etc visit here with their special mehndi and designs. Women observe this festival to win the heart of their husband.

Rajasthan - The women of Rajasthan make karwas with clay and fill them with rice and wheat. They wear their wedding-day dress or chunri on this auspicious occasion. They observe this day with the belief that they will not only be blessed with the long life and prosperity of her husband but also will win the same husband for the next seven births.

Uttar Pradesh - Married women decorate the walls of their home with paintings of Gauri Mata, the Moon and the Sun. They make karwa with clay and offer puja with earthen diyas. They keep fast and pray to the figurines at their doorstep for the long-life of their husband.

Apart from these states, women from Gujarat, Madhya Pradesh, Uttar Pradesh, and so on observe this fast with great enthusiasm. Husband, mother and mother-in-law present them with new clothes, jewelry, sweets, etc.
Tradition of Gifting
Since this festival is mainly observed by married women, all the symbols that reflects the marriage status of a woman such as jewelry, bangles, mehndi, bindi, sindoor, chunri and traditional apparels are high in demand. Apart from these, sweets and fenni also are gifted to make the festival more traditional. Sargi and Baya are the two most important gifting articles without which, the festival of Karwa chauth is incomplete.
Sargi

Sargi is one of the very traditional gift item which is believed to bring good luck and prosperity in the lives of the married couple. Mother-in-laws gift 'Sargi' to their daughter-in-laws. This sargi is an arrangement of of delicious food items which is consist of various sweets and snacks. Not only food items, Sargi also includes apparels and jewelries. These food items are given to the daughter-in-laws so that they can eat them before sunrise.
Baya

In the afternoon of this pious occasion, mother of the married woman gift 'Baya' to her mother-in-law. This Baya is consist of few Mathris, Almonds and other items which needs to be reached to the house of their daughter before evening. Before breaking the fast puja is offered to Gauri Mata or goddess Parvati. Married women gather and pray to her for their husbands well being and long life.

Apart from traditional gifts, mothers send designer clothes, accessories, cosmetics to their daughters.