A gift is an emotion that we send to our loved ones. But there are times when our minds hover over the idea of a perfect gift. Have you ever faced a situation where you are at a complete loss of ideas as far as gifting is concerned? As soon as the festive seasons, birthdays or anniversaries approach, you feel those beads of sweat on your forehead because you know it is time for choosing the best gift for your loved ones. Selecting a good gift for men is indeed a difficult task. Here are a few points to keep in mind when selecting gifts for him.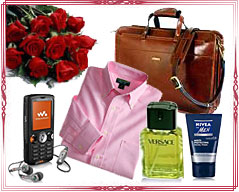 The first thing that should be given importance, while selecting gifts to India for him, is the relationship that you share with that special person. He may be your father, brother, friend, colleague, school mate, boyfriend or husband. The relationship plays a major role in the selection of the gift. If He is your Dad, the gift should symbolize love and respect. If your brother is the person receiving the gifts, you can select a cute, fun filled and casual gift. Your boyfriend would expect a gift portraying immense love and care. A professional colleague on the other hand has to be gifted something which is professional and formal.
The age of the man to whom we are sending gifts has to be given importance. Young and old men are different on the things they prefer as gifts. If gifts are selected keeping in mind his age, the gift can truly be the perfect one for him. If he is younger to you or he is a growing kid then some play school items or fancy toys are the perfect gift for him. If he is a young adult you can send any gifts like mobile phones, perfumes, apparels. To someone who is middle aged, the ideal gift would be sophisticated perfumes, good books, formal clothings etc. You can also gift him useful things like a leather wallet or a fashionable office bag. Young men who are not much aged can also be gifted with gift vouchers, mens care products.
Selecting sensible or perfect gift is a very important criterion. The occasion on which we are sending gifts to India to Him is also a thing to focus on. Different festivals will have different gifts that will signify the joy and love you want to share with him. For instance, Christmas or Diwali is the time where you have to rack your brains to the maximum for selecting gifts for everyone in your family. The best way to choose is to put yourself in their shoes and think from their perspective about what they would be wanting the most. Accordingly the selection of gifts needs to be made.
Another good way to select gifts to India for him is to know well about his tastes and preferences. A gift will have its full meaning only when it is used and understood properly. A useful gift can make you more dear and memorable to the special person to whom you are sending the gifts. So judge his likes and dislikes and then choose a gift that will showcase his persona.
Selecting a good gift is an art. If we achieve perfection in doing that, we can take pride in becoming his most adorable person by sending him the best gift. For that we have to know what is on his mind and heart.