Send Your Best Wishes Through Wedding Gifts to India from UK
Wedding is the grandest celebration in the life of any person in India. Indian weddings are almost guaranteed to be lavish with hundreds of guests and large varieties of food, both Indian as well as Continental. It becomes hard to gift a newlywed couple because you have to think about both of them and find gifts that both the husband and wife can cherish for a long time.
If you are looking forward to send wedding gifts as online gifts to India from UK you can check the various online gifting portals. Of all the websites to send gifts to India, you can browse through the collection offered by GiftstoIndia24x7.com. It is considered to be the best site to send gifts to India. To make sure that you can choose the wedding gifts easily, we have compiled a few gifting ideas that you can send as gifts for the beautiful couple.




Apparels
Clothes are the most gifted items in any Indian wedding. Apparels that complement the bride and the groom, should be gifted to the newlyweds to ensure that the couple looks even more beautiful together. A salwar kameez for the bride and a set of formal clothes for the groom is a great set of gifts. An alluring blue salwar kameez would look great on a lady with her man in an Allen Solly striped shirt and a blue trouser.

Gift Vouchers
With so many companies offering gift vouchers online for their brick and mortar stores, nothing gets better than letting the couple choose their gifts for each other according to their tastes and preferences. Be it a dining voucher for a scrumptious meal for two, a shopping voucher or a voucher from a lifestyle store, give the couple the freedom to choose for themselves.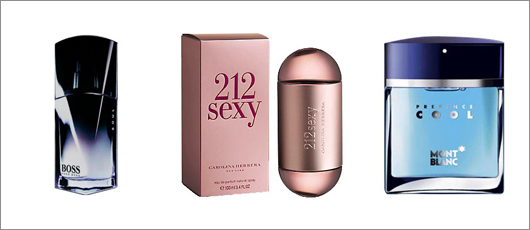 Kitchenware
Nearly all couples start their lives in a new house and therefore would highly appreciate your gesture of gifting them kitchenware from branded companies. These gifts convey heartfelt emotions to the newlyweds and they will remember you with every meal. You can also think of gifting them cookware, beautiful dining sets, glasses and tableware from reputed companies.

Luxury Bed Linen
Luxury Bed Linen is something everyone loves. They look ultra-glamorous and after a tiring day's work the couple can rest comfortably in their soft cozy bed. Luxury bed linen always have soothing designs to add a touch of elegance and are extremely soft to cuddle on. You can gift from the wide range of multiple colored bed sheets, available in floral print motifs.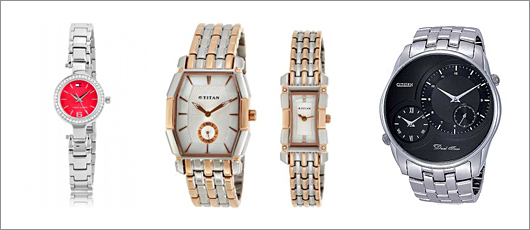 Perfumes
Who doesn't love aromatic fragrances? You can always surprise the newlyweds by gifting aromatic 'Him & Her' set of fragrances to the beautiful couple. There are a variety of perfumes available from luxury brands like Calvin Klein, Azzaro, Hugo Boss, Giorgio Armani, Adidas and more to choose from.

Watches
Watches are classic gifts that never go out of style. Watches are the only accessory in history which has stood the test of time without any major changes to style and design. You can always gift a classic pair of chronographs from Titan or Citizen.

Show Pieces
Wedding show pieces make great gifts to adorn any newlywed couple's home. Be it a Lord Ganesh idol or a Crystal Taj Mahal, they symbolize the warmth and affection that binds them together and wishes them the best in life and they act as symbols of good luck and hope.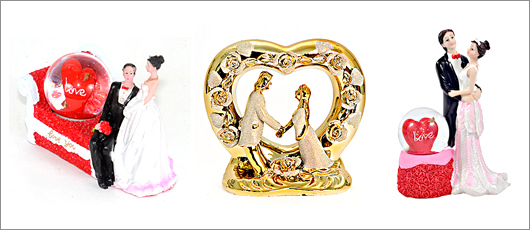 Wedding Cakes
No celebration is complete without cake and even traditional Indian weddings cakes has become popular. A classic black forest cake is all it takes sometimes to brighten up the wedding atmosphere. If you want something more fancy you can go for a 3 tier chocolate cake.

Wedding flowers
Wedding flowers is the single greatest idea if you want to brighten up the wedding with colors. You can gift flowers in a vase or go for classic special wedding roses. Roses are symbols of new beginnings and new bonds which will last in the minds of the couple for a long time.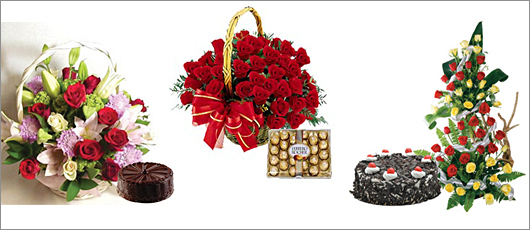 Wedding Gift Hampers
Wedding Gift Hampers are a great way to combine multiple gifts together in a beautiful package. These hampers of cakes, flowers, chocolates and more all put together. They are used to bless the new couple and wish them the best for their new beginnings. We have an assorted set of combos to choose from.

Wedding Jewelry
An Indian wedding without jewelry is unthinkable because in India jewelries are considered to be the sacred assets for the bride all throughout her life. That is why so much importance is associated with wedding jewelries. India is the largest consumer of gold and jewelry attains importance when it comes to sending gifts to the newlyweds. Choose from the amazing range of gold, diamond, pearl or fashion jewelries for them. These will shower prosperity to the couple and wish them luck for their journey ahead. You can browse GiftstoIndia24x7.com, which is the best site to send gifts to India for finding the perfect jewelry piece.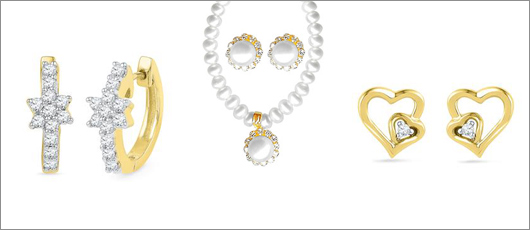 Weddings are always special and so should be your online gifts to India from UK. After all, it's the mark of new beginnings for two beautiful people who are venturing into their new lives together and wedding gifts are the best way to wish them lifelong togetherness and bliss in their lives. Of all the websites to send gifts to India, make sure to opt for GiftstoIndia24x7.com for their wonderful collection of items and prompt online services pan India as well as across the globe.