Send Valentine's Day gifts to India from USA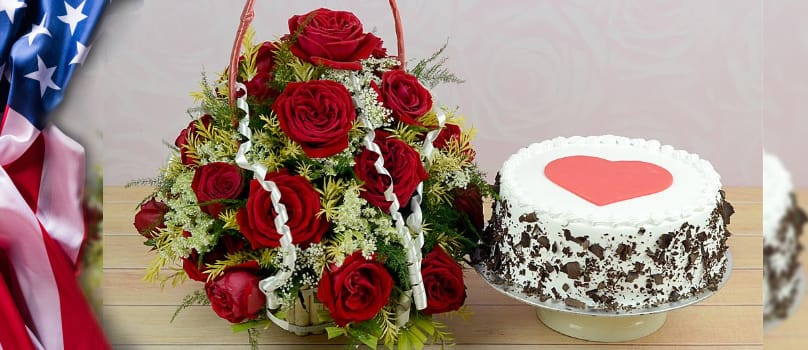 'Saint Valentine's Day' commonly called as 'Valentine's Day' is a special day celebrated all over the World with full gusto and enthusiasm. The day that falls on 14th February every year commemorates the loving relationship between couples fondly in love. It is popularly a day when lovers express their love for each other by presenting aromatic flowers, offering confectionery, sending greeting cards etc. Keeping this requirement in mind, numerous gifts portal has come up to serve this purpose of sending gifts. Among them, GiftstoIndia24x7.com is quite proficient, through which Non Resident Indians (NRIs) can send gifts to India from USA or anywhere else. The advent of modern day technology allows one to send gifts online through the usage of online portal that guarantees safe and secure delivery of goods.
As flowers are the most significant gifts for Valentine's Day, you can astound your dear ones in India, by sending exotic flowers. Flowers have the power to express your heart-felt feelings in the most sublime way. Thus, if you want to reveal your thoughts and expressions to a person not aware of your feelings or bewildering your estranged partner or sharing moments awe-inspiring with somebody very fond of you, send flowers to India on Valentines day. The site has launched an array of beautiful flowers like romantic roses, bewitching lilies, enticing carnations, doting daisies, enchanting orchids etc. You can also team the flowers along with other Valentine gifts to India like love teddies, personalized love mugs or cushions.
However, if you want to make this day eventful, you can send Valentine Seranades to your dear partner as gifts. Valentine Seranades are special gifts that can be send week long. For example, to flabbergast your dear love you can send pink roses with a love card on 1st day, red roses in a vase on 2nd day, multicoloured orchids along with a sumptuous cake on the 3rd day, a bountiful gift hamper on the 4th day, a box of delectable chocolates on the 5th day, a soft loving teddy with a perfume on the 6th day and finally a heart shaped corsage of red roses along with a diamond ring on the final day. As they are the most special category of gifts meant for successive 2, 3, 4 or 7 days, your Valentine's Day would surely be a memorable one.
If your loving lady loves gorging on delectables like cakes and chocolates, you can also elate her by sending branded chocolates or fresh love cakes through site. Your gifts to India from USA would surely constitute special as you send them with true love and affection. However, if you want to make this occasion a low-key affair yet special, you can send some personalized gifts like mugs, t-shirts, photo poster or tiles clubbed with a thoughtful greeting card. If your dear partner loves getting pampered, then you can choose your pick from gift hampers for him or her or mega hampers. As they consists of numerous gifts of the person's choice, he/she would surely feel extremely special.
Valentine's Day not only brings fresh couple closer, it also strengthens the bond of love, affection, trust and togetherness of couples who decide to take their love to the next level. So, for such couple, the site has launched 'Dil Se' gifts. This section assists one to send gifts to India that are extremely special and straight from heart. Thus, keeping in mind the varied requirements of people from across the globe, the site has launched varied categories of gifts. Thus, celebrate this occasion through us that marks the end of winter and onset of spring. Let the winter or coyness in your heart stand the test of time through this occasion and step forward to the spring of happiness and togetherness in the days to come.
Thus, every time you feel like delighting your dear ones, send gifts to India through this gifts portal that has been delivering amazement in the form of gifts since over a decade.