Ugadi and Gudi Padwa, the Festivals of India
Ugadi and Gudi Padwa marks the beginning of New Year in the states of Karnataka, Maharastra and some parts of Andhra Pradesh. This is one of the most important of all Indian festivals, which is celebrated in a grand way. While in Maharastra, the term used for their New Year is Gudi Padwa, for the people of Karnataka and Andhra Pradesh, it is known by the name Ugadi. On this day, among other things, gifts are exchanged in plenty. If you want to send gifts to India on the festival of Ugadi and Gudi Padwa, you can take the help of GiftstoIndia24x7.com, a leading e-gifting portal.

Ugadi and Gudi Padwa is celebrated on the Chaitra Sukhla Padyami, the first day of the Hindu calendar. The day corresponds with the end of March or the beginning of April as per the Gregorian Calendar. Before you send gifts to your loved ones on this festival, you must know when is Ugadi in 2012. In 2012, Ugadi will be celebrated on 23rd March. This principal festival also marks the beginning of Spring, referred to as 'Vasant'. Since the festival is synonymous with feasting and gifts, you can send gifts to India to your loved ones on this day of the celebration. According to legends, it is believed that on this day, Lord Brahma had created the world and for this reason, the day is marked by worshipping Lord Brahma, one of the three Gods of the Hindu Trinity. The day is also regarded as one of the most auspicious day to start with a new venture.


Ugadi and Gudi Padwa is marked by cleaning houses, making rangoli, wearing new clothes, and eating traditional dishes. Prayers are also offered to God on the day of the festival. Both young and old wear new clothes after an early bathe and offer prayers to the God. Some of the traditional dishes that are cooked on this day of the festival include Chana Usal, Soonth Panak, Poori, Srikhand, Ugadi Panchchadi and more. Unique to Ugadi and Gudi Padwa, on this day, people eat the leaf of neem tree. Since food holds an important part on this festival, you can send Ugadi and Gudi Padwa gifts to India in form of dry fruits, sweets and chocolates.

Erecting 'gudis' are the most important ritual of the festival. Gudis are bamboo poles which has a silver or brass kept on its top in upside down position. Silk cloth of bright colors like yellow or green which have zari works covers the gudi. The gudi also comes decorated with mango leaves, marigolds coconuts which symbolizes good harvest. On the top of the gudi, an empty upturned water jug of silver, brass or copper are placed. The people of Maharastra hang gudi since it is believed that they will avert evil and will bring good luck and prosperity. Since Ugadi and Gudi Padwa has religious significance, you can send spiritual gift to India on Ugadi 2012 through GiftstoIndia24x7.com.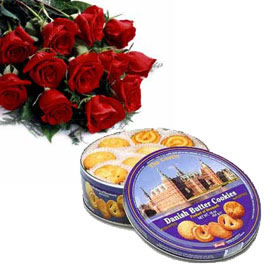 You can also choose from our impressive collection of clothes and send as Ugadi and Gudi Padwa gifts to India for your dear ones. The collection of dress for this festival has been categorised into Mens Wear and Sarees. The Mens Wear has been further subdivided into Jeans, Tie, Shirts and Trousers. You can also send apparels by sending Gift Hampers and Gift Vouchers.

Ugadi and Gudi Padwa gifts in our website also comes in form of Jewellery, Perfumes, Fresh Flowers and many more. GiftstoIndia24x7.com is a recognised e-gifting portal that offers gift items and products for different festivals and occasiond. You can send gift on any occasion and festival to India you want to, no matter whichever part of the world you are located. In case you have any question regarding our products and services, you can always bank upon our extremely efficient and reliable customer care support.