If your are thinking to gift something simple yet beautiful to your dear ones, then a bouquet of flowers would be the ideal choice. Sending flowers to India make as a great surprise gift for any event whether it is your dear one's wedding, anniversary, birthday and so on. The presence of beautiful flowers usually delights anyone - a kid, a teenager or an elderly person. From down the ages, flowers are sent as gifts. Their exotic beauty have made them still in demand.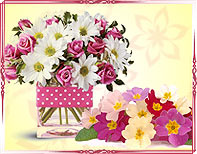 Why Flowers are sent as gifts ?

Flowers are considered as the symbol of love and and adoration. Their fresh and charming appeal always leave a positive impact on an individual's mind and soul. They represent wide range of emotions and feelings. Flowers can console in sorrow, express love and affection, celebrate friendship, congratulate in achievement and so on. What you can't express to your dear one will definitely be conveyed by a beautiful bouquet of flower. Due to all these reasons, flowers have become one of the most popular gift items in recent times.

Hence, you can opt for flowers as the best gift for your loved one on any occasion or festival. Bangaloreflorists.com is an exclusive online store through which you can send flowers to Bangalore to your dear one who is residing in that city. This online florist showcases beautiful flowers - Roses, Orchids, Gerberas and Carnations. Send flowers to Bangalore and amaze your loved ones.

Flowers representing different meanings and significances

Each flower carries with it different meanings and significances. For instance, Roses signifies love and appreciation. Thus, you can opt for a beautiful multi-colored roses bunch and send it to your loved one. Moreover, the color of the flowers also signifies special meanings. Thus, you can send online flowers to Bangalore better if you know what the color of the flower represents. For example, pink flowers represent gratitude. You can convey gratitude to your parents by sending an enchanting pink rose or carnation bouquet.

Keeping this in mind, you can browse through this site and select the best flower arrangement for your loved ones. Some of the popular flower arrangements available in this site are as follows:-

50 Red Roses Basket - Red roses symbolize love and passion. They convey love and affection to your dear one by sending this fifty vibrant red colored roses that come in a cane basket. The presence of these red roses will definitely surprise your dear one.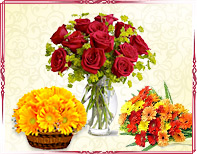 Soft Feelings - The color white symbolizes kindness and purity. You can opt for this white colored flower arrangement for your dear one who is very kind, innocent and soft. This special arrangement comes with white Lilies, mixed white Carnation, white Roses and white Anthurium.

Tenderness At Its Appeal - Carnations are often regarded as the "flower of the gods" or "flower of love". This flower is appreciated for its clove-like scent, ruffled appearance and extended blooming period. You will avail these flowers in various colors. Hence, you can opt for this lovely flower arrangement for your dear one who is fond of pink flowers. This flower arrangement comes with 18 pink colored Carnations decorated with white filers and green leaves.

12 MultiColored Gerberas Bunch - This enchanting flower bunch includes twelve multicolored gerberas. Your dear one will be overwhelmed to receive this vibrant colored Gerberas as gift. You can send this stunning gerbera bunch along with other flowers to Bangalore online.

Mixed Dendrobium Orchids - Orchids are known for their vibrant colors and delicate beauty. This flower signifies love, luxury, beauty and strength. You can send this flower arrangement on occasions such as Birthday, Wedding, Anniversary and convey your warm wishes to your dear one. This arrangement includes 4 pink and 5 yellow Orchids arranged in vase.

Thus, cheer up your loved ones by sending these wonderful flower arrangements. They will definitely be glad to receive such lovely and fresh flowers.