Tips for decorating your homes in Diwali
With the grand festival of Diwali just around the corner, do not forget to add some sparkle to your home. People start cleaning their houses much before the occasion arrives. Are you still wondering from where to start cleaning your house?

Don't get puzzled. Here are few tips to organize and decorate your home sweet home.
1. Discard Unused Items
Check your kitchen, wardrobe and living room to pick the unused and broken jars, bottles, crockeries, unworn clothes and discard them. Old clothes and shoes can be given away to one who needs them.
2. Clean Your House
Wipe furniture, fans and corners of the room with cloth or brush. You can also use cleaner such as Colin to wipe off TV, Refrigerator, window glass, mirrors etc.
3. Re-organize Your Furnitures
Rearranging furnitures such as tables, sofa, carpets, wall hangings or even a piece of painting can make the room look interesting.
4. Modify Accessories
Furnishings such as cushions, mats, curtains, carpets can be altered to make the home suit the festive season. You can decorate your drawing room table with a big glass bowl filled with water, flower petals and fragrant candles.
You can also decorate your house with the following articles to add a special traditional touch to it.
Diyas and Candles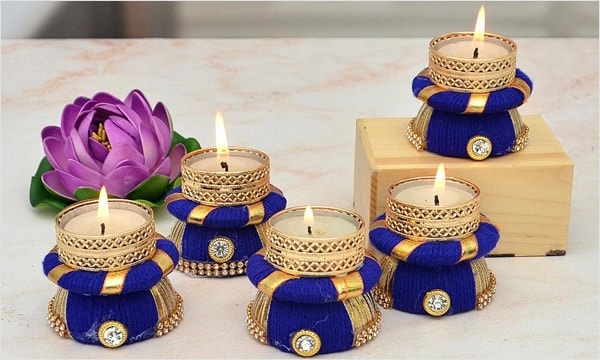 Diyas, the clay made oil lamps, are mainly used on this special occasion to decorate one's houses. Lighted diyas and candles are arranged in rows which add charm to the festival. People decorate their houses terrace and balcony, main entrance and Puja ghar with colorful diyas. Beautiful lamps are hanged from balconies and series of bulbs furthermore are arranged to decorate houses. Since these lamps bring prosperity, blessing of almighty and eradicate darkness, people celebrate this festival with lights.
Apart from diyas, beautiful candles also are available in the market which can also be used to decorate your houses. These come in various shapes and designs. Some candles are placed in wonderfully decorated stands, glass pots, etc. which again enhance the beauty of one's house. Alongside these, floating candles also are available which are arranged in glass bowl. Not only these fragrant candles add to the beauty but also spread aroma.
Rangolis
Although Diwali is a festival of lights, colors play a big role in this auspicious occasion. People enhance their entrances and puja ghar with colorful rangolis which is believed to make memories colorful whereas Rangoli is designed amongst Hindus to welcome Lakshmi, the goddess of wealth and prosperity. Rangoli also is known as alpana which is a timeless tradition that is followed all over the country. The patterns often consist of floral designs. During Diwali, rangolis are usually made with flower petals, rice powder, colored powder, kumkum and so on.
Door Hanging and Wall Hanging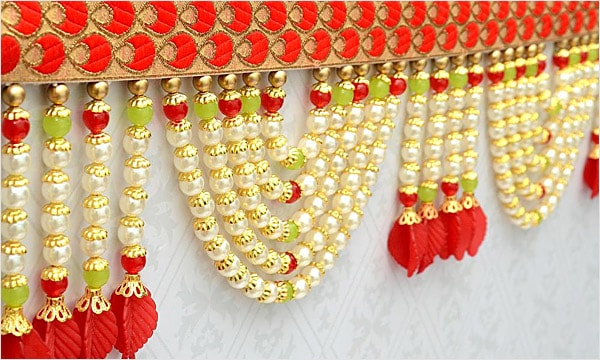 Door hangings or torans or bandhanwars are used to decorate the entrance, especially the main doorway and the puja ghar of one's house. People also decorate their main entrance of shops or offices with the door hangings on the pious occasion of Diwali. These door hangings are especially used to welcome the Goddess of prosperity and wealth, Lakshmi. These hangings are designed with laces, mirrors, bells, and so on. Many do decorate their entrances with flower and mango leaves which is also considered as auspicious.

Wall hangings, embroidered with colorful threads and zaris and beautified with bells, auspicious Swastika symbols, beads, mirrors and are hung in various rooms to spread well being and happiness. Figurine of Lord Ganesha and the Goddess Lakshmi are also used in the wall hangings. This Diwali decorate with 'Subh Labh' hangings at the door or wall of your house and let the almighty shower good luck and prosperity.
Kitchen and Tableware
Add some shimmer to your kitchen decoration by changing the covers of your kitchen appliances this Diwali. This will reflect a vibrant look of your home. Not only giving the appliances a new look, the covers will also protect them from dust. Moreover you can add color to your dining room by just bringing a hue to your tableware. Various tablewares such as table runners, covers, etc. are available. Since Diwali is all about bursting crackers, lighting diyas, grand feasting, cleaning and decorating houses also plays significant role in this festive occasion. Hence this Diwali facelift your house and add color to the occasion.
Celebrate this upcoming festival of Diwali with jubilance and pomp. Make sure you get all home decorations beforehand. Traditional gifts such as sweets, dry fruits, diyas would be a great way to wish good luck this season. You can also gift kitchenware, tableware items and traditional home decors to heighten the significance of the festival.