Mouth-watering starter which you can prepare during Rakhi 2013
Raksha Bandhan or Rakhi is an auspicious Hindu ceremony that celebrates the affectionate relationship between brothers & sisters. On this day sisters strengthen & renews the relationship with their brothers by tying a sacred thread around his wrist.This sacred thread which is filled with sisterly love and exalted emotions is rightly called Rakhi. Tying a rakhi signifies the protection of the weak from the evil. Every brother awaits this day with much anticipation. This occasion is a pleasure filled in the siblings life and is celebrated with a lot of grandeur and pomp. Sisters pray for long life of their brothers and prays for his good health. Rakhi has undergone a lot of modifications over the passing years but the initial sentiments remain the same. Rakhi not only glorifies the relationship between brothers and sisters but unifies families as well.

Rakhi generally falls on the shravan purnima (full moon day), which is generally falls in month of July-August . So when is Rakhi 2013? Rakhi 2013 falls on 21st August. Like every other Indian festivals, gifts too play a major part in Rakhi. Those of you who are unable to visit your brothers this year need not to worry. This e-gifting site, Giftstoindia24x7.com has a wide variety of rakhi gifts for brother which you can send to him along with your love and care. so send rakhi to India to your dear brother in India and bring a smile to his face.

Rakhi means reunion of families, sharing gifts and a whole lot of love amongst each other so make sure to send online rakhi and make this occasion a pleasurable day for your brother. Rakhi shopping has gotten much easier. you can send anything to your brother from Rakhi sweets , shagun thalis, accessories and anything you know that your brother would desire. Send these along with Rakhis to India to make up for the moments that you could have spend with your brother.

Rakhi calls for mouth-watering dishes.It is a day for feasting. So if you are spending Rakhi 2013 with your brother then why don't you prepare a starter dish for him. Below is the recipe for 'Sweet Kachori' , which you can easily make without any fuss.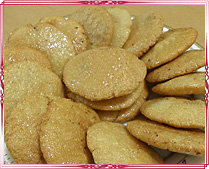 Ingredients Required:

• For cover:
• 250 gm Plain flour
• 1 tbsp Cornflour
• 30 gm Ghee

• For Filling:
• 200 gm of khoya Kheer
• 50 gms of milk powder
• ½ tsp of nutmeg/cardamom/cinnamon powder
• grated coconut
• grated kaju and kismis
• coriander leaves

• For syrup: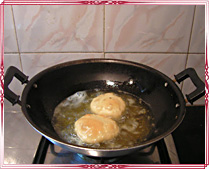 • 250 gm Sugar
• 1 Cup water
• 1 tsp of saffron
• Ghee for deep frying


Method:
• Take milk powder, khoya kheer ,½ tsp of nutmeg/cardamom/cinnamon powder , grated coconut , kaju & kismis, coriander leaves and mix them well. The mixture must be soft and friable.

• Then take a bowl and mix all the ingredients for making the cover. then using water knead it into a pliable dough. Then cover the bowl with a wet cloth and keep it aside.

• Now boil sugar and water adding a tsp of milk to clear the syrup.

• Boil this mixture till the syrup becomes sticky.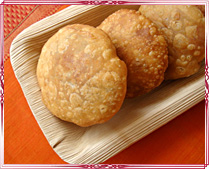 • Now strain, crush and add saffron to this mixture and leave it to cool down.

• Now make flattish balls of the filler mixture of desirable amount.

• Make the same amount for the cover from the dough mixture.

• Roll the separated dough mixture into flat puris.
• Now put one ball of mixture into a single puri, pull up all the sides to seal the mixture and shape it into a flat round shape, continue the process until you achieve the desired numbers of khachoris.

• Heat Ghee and fry them until the color changes to light golden brown, turning once.

• Repeat the process for the remaining Khachoris.

• when they slightly cool of make slight holes in the centre of each Kachori.

• Pour half tbsp of syrup and roll kachori around to let the syrup spread.

• Allow to stand for half an hour before serving.


Start of Rakhi with this delicious recipe and eternalize Rakhi 2013 forever.