Gift soaps to India and help your dear ones feel fresh !
A very wonderful and unique gift idea for your loved ones in India can be a soap. There are so many festivals and occasions in India, that it sometimes get really difficult to send unique items every time as gifts to India. Therefore, to help you solve this problem of finding unique gift items, the decade old trusted web store of GiftstoIndia24x7.com has brought for you a miriad range of soaps that you can send as gifts on occasions and festivals. We have a huge collection of soaps in various colors and designs for kids as well as adults. These very unique looking soaps are bound to make the bathing experience of your loved ones a fun and joyful experience.This very refreshing gift item, would be delivered to your loved ones in India without any extra shipping charge.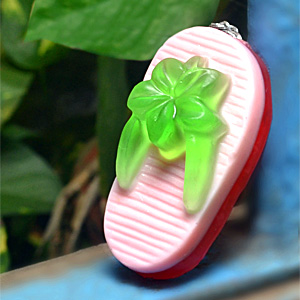 Every day while we shower, we use this tiny foamy bar, but how much do we actually know about its origin? The origin of soap dates back to almost six thousand years ago. It was used by the Babylonians and Egyptians, and were made from animal, vegetable oils and salts. According to the Roman legends, the name Soap originates from Mount Sapo, this is the place where animals were sacrificed. When it rained the animal fats would wash down the mountains, mixed with various other elements, and the Roman people would use this to wash their clothes. The manufacturing of soap is quite a complicated process. Fats and alkalis are melted together and thickened. This reaction produces soap and glycerine. Then these two are separated and thickened with salts, this makes the soap rise to the top and allows the glycerine to settle at the bottom. The glycerine and unprocessed fats are removed, and a strong caustic solution is added to the vessel. Then the solution is boiled with water and perfume. Then the mixture is cooled down and shaped as per desire. Now that you have acquired some idea about the history and the process of soap making, you must consider sending one, when you send gifts to India for any occasion or festival. Our portal consists of Soap like :

Santa Claus Soap - Santa Claus, is loved by all kids, as he is responsible for bringing them Christmas gifts. This Santa Claus shed cute soap is bound to bring a lovely smile on your kid's face. What makes this really special is the shape of the soap which is cut in such a way that it seems as if the Santa is wearing his typical suit. Moreover, the perfect blend of fluorescent, orange and peach colors gives it the perfect look.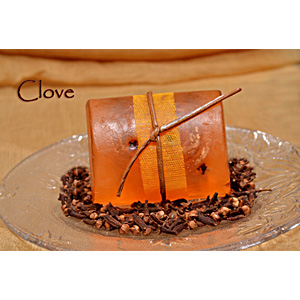 Slipper for Your Princess - Give your little ones in India a lovely surprise by sending them this adorable slipper shaped soap. The colorful red and pink base along with green colored stripe design on the soap gives it a very attractive look. You can be sure that your little angel will be delighted with this as a gift.

Clove Soap - Spice up your bathroom with this amazing smelling soap which not only have essential oils of spices but also contain a dash of actual spice pieces. Aromatic Glycerin bar infused with clove and clove oil which soothes with its healing and antiseptic properties.

So, choose your prefered soap from our online store and make the bathing experience of your dear ones in India a refreshing and fun experience.