Send Personalized Gifts to Your Dear Ones
Personalized gifts are very special as they bear the images and names of your dear ones and also contain special messages for them. Thus they are simply adored by the receiver as they make a very thoughtful and personal gift. These gifts are perfect for any occasion and many online stores containing collections of such gifts have opened up in recent times. In today's world, families are getting segregated due to different places of work and stay and you may end up living in a different country while your family and friends are left behind in India.

If you want to send gifts to your friends and family to then you can do it easily through this online gifting portal. You can easily send personalized gifts to India through us to your dear ones and we will see to it that they receive their gifts before time. Many types of personal items are available on our online gift store for you to choose from to send to India.

Caricature gifts to India are available here that will give a humorous twist to the your dear one's celebration. These gifts will contain images of your dear ones but in the forms of caricatures. Clocks, T-shirts, nameplates, notepads, canvasses, themes and mugs are available in this section. You will also find kids mugs here which are perfect to be gifted to your little ones in India. These mugs have unique handles in the forms of animals like dolphins. They are very attractive and suitable for gifts on birthdays and children's day.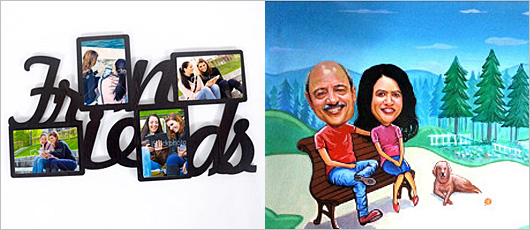 Attractive personalized mobile covers are also showcased on this online gift store for your friends and family. These covers come in different colours like orange, blue, light brown, pink, purple and dark brown. They also have unique and modern designs which will make your loved ones' phones look even more attractive. There are also lovely photo frames here that will be greatly admired by your friends and family in India. The frames available here have many slots and therefore will contain pictures of each member of your friend circle and even your family. Thus they are a perfect gift for any occasion and will be loved by all.

Unique photo gifts are also available here that you can gift to your loved ones in India. Personalized pillows, bottles, calendars, puzzles, cushions, trees and many others are found here that you will definitely find attractive. These are very colourful and have authentic designs.There are also smart and elegant photo T-shirts here that will be a useful and memorable gift to your friends and family. These T-shirts come in different sizes so that you can choose the suitable ones. They come in white, blue, red and green colours and your dear ones will definitely find them attractive.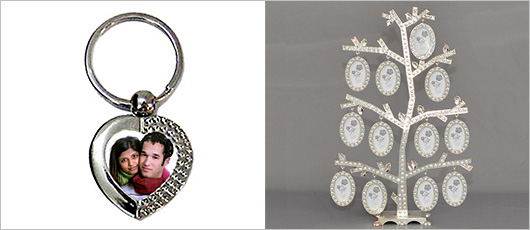 Photo keychains are an attractive gift that will also be very useful to your friends and family in India. These keychains come in different attractive shapes like droplet, diamond, star, oval and heart. Their designs are also very eye-catching and they make a great gift for occasions like birthdays and anniversaries. A great collection of personalized songs are also available here for your loved ones. Our gifting site showcases songs in the Hindi language which will be perfect for your dear ones. Songs for different occasions are available here to delight your friends and family in India.

You can also send photo mugs to your friends and family in India. Personalized mugs are a very popular gift idea and they are also a very useful one. Mugs for different occasions and in different colours are available here. Rock photos are also available here that will make a great gift for your dear ones in India. These artificial rocks imprinted with a meaningful photo of your choice will make a great gift for any occasions. There are a variety of rock photos including ones in the form of wall hangings are available here. Attractive personalized mirrors are also showcased here that will be instantly loved by your friends and family in India. Mirrors of oval and square shapes are available here that will delight your dear ones on all occasions. The backside of these mirrors will have images of your choice that makes it a very useful gift that your loved one will be able to carry around with them.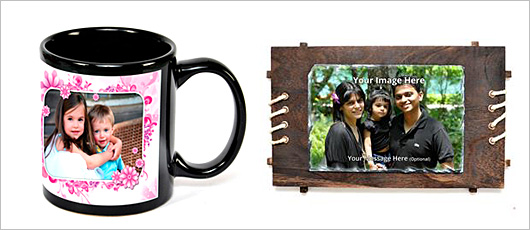 You can make any occasion extra special for your friends and relatives in India with these wonderful personalized gift items. They can be easily sent as birthday gifts to India and anniversary gifts to India to your loved ones. These and many other gift items can be easily sent as gifts to India.