Gifts are significant means of refreshing one's mind. Surprise gifts vitalizes ones' mood by making them feel special. Gifts can be send on occasions or festivals from various online portals. If you reside in any corner of the World, and feel like bewildering your dear ones in India with exquisite quality gifts, send gifts to India from online portals like, GiftstoIndia24x7.com. This is a leading e-gifting site that has been delivering sweet smiles in the form of gifts since a decade.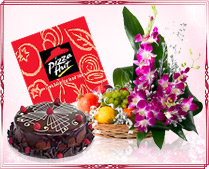 Gift hampers are considered the most exciting gifts available. It comes in huge conglomerates, in combination of flowers, cakes, chocolates, teddy etc. However, presenting hampers as gifts enables a person to send multiple gifts to the recipient. It is a known fact and practically goes without saying that gifts are loved by all. So, presenting gifts in numbers excites a person making him/her glad and privileged. A wide variety of gift hampers to India are showcased in the site. A sumptuous cake with a cute teddy or a box of mouth-watering cookies will constitute amazing gifts for any occasion.
Gift cards to India from USA are basically gift certificates with a specified face value that allows a person to avail goods matching that face value. A wide plethora of gift vouchers from the leading brands are available in the site. You can gift an amazing dining experience by sending gift vouchers from Pizza Hut, Mainland China, Taj etc. To allure your loving counterpart in India, you may opt for Shoppers Stop, Pantaloons or Reebok vouchers. In addition to that, jewellery vouchers from Gili, Tanishq etc. will surely bewilder your female recipients.
In the words of Mr. Amit Desai, the CEO of the company, "The varied collection of gifts in hampers gratifies not only the recipient but also their close ones by invigorating their relationship."
Thus, rejuvenate the mood of your loved ones this festive season by sending flabbergasting Gifts to India, through this renowned shopping portal.