Send Dry Fruits & Sweets on Rakhi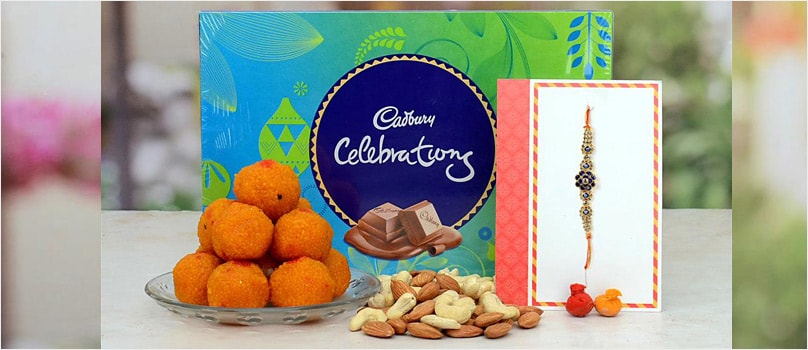 Rakhi is the most celebrated festival of India. Dry fruits and sweets are exchanged in plenty during this auspicious festival. If you want to send dry fruits and sweets on Rakhi, you can send through giftstoindia24x7.com. Dedicated entirely to rakhi and rakhi related gifts, you can send rakhi to India along with various other gifts with the help of this global rakhi store.
Sending dry fruits on Rakhi are often appreciated as these are enjoyed by one and all. You can choose from our dry fruits collection which has been divided into Dry Fruits for Rakhi, Dryfruits with Rakhi, Dry Fruit Hampers and Dry Fruits Thali. All these different categories are stocked with lip-smacking dry fruit collection which you can send as rakhi gifts to India.
Rakhi Thalis come with ritual items like diya, tika, incense sticks, sandalwood and rice. Apart from the general rakhi thalis, our website also offers various other different varieties of rakhi thalis, Dry Fruit rakhi thalis being one of them. When you are sending rakhi to India, you can add from our collection of dry fruits thalis. These dry fruit thalis have colorful attractive packaging, some of which even come with chocolates. For instance, thalis like Masala Masti, Delightful Hamper and Choco Delicacy have chocolates along with dry fruits. You can send rakhi gifts to India to your sibling in form of Dry Fruits Hampers as well. In this category, you will get to choose from unique hampers which are perfect for this vibrant festival. Each of these dry fruit hampers come teamed with attractively designed rakhis. You can go for the Dry Temptation which is a combination of gift voucher, chocolates and dry fruits.
As the name suggests, each of the products of Dryfruits with Rakhi come with a rakhi along with various ritual items and often with a free gift. For example, Silver Cart with Dry Fruits comes with a free silver pen, on the other hand, Namkeen Hamper comes with a free rakhi greeting card. The category of Dry Fruits for Rakhi comes with enticing dry fruits collection. You can make a choice from the collection and send along with rakhis to India. While in 1kg Mix Dry Fruit in German Silver Bowls, will let you send four different kinds of dry fruits, Healthy Duo will let you send two varieties of dry fruits.
Apart from dry fruits, which are hot favorite rakhi gifts, you can also send from our mouthwatering varieties of sweets. Sweets are stocked in Send GiftstoIndia24x7. Rakhi mithai thali, Mithai with Rakhi and Sweets Hampers. All the different varieties of sweets available in our website in each category can be bought at minimal amount. Some of the varieties of sweets offered are Kaju sweets, Mewa, Sohan Papri, Karachi Halwa, Motichoor Laddoo, Peda and Gulab Jamun. Some of the Mithai Thalis available in our website come with beautiful rakhis. In both the categories of Sweets Hampers and Mithai With Rakhi, you can go for the hampers coming with chocolates or with the ones coming with dry fruits.
In addition you can also send rakhi greeting card, if your know how to make a rakhi greeting card. Now if you are wondering when is rakhi, then it must be mentioned that this colorful festival will be celebrated on August. Choose from our alluring collection of dry fruits and sweets and send them to your sibling for a perfect rakhi celebration.